| | | | | |
| --- | --- | --- | --- | --- |
| | | | | |
| | | You are here | | |
| | | | | |
Yecht Family 19th Century Origins
Schlager Nelson Yecht Echt Family from Lokacze, Vladimir-Volinskiy or Horochów District, Volhynia Province, Ukraine Jewish Gen
Jewish Population in 1900: 1,730
Wikipedia
Documents
Ukraine 2018 Volyn Survey of Jewish Cemeteries

Ukraine SIG Volhynia Province
Districts: Kovel, Lutsk, Vladimir-Volinskiy

1906-1910 circa Nelson siblings in Ukraine. Date per Molly Cinamon:
Sarah (b: 10/6/1900) is in lower right. Taube is top center. Etta (b: 4/5/1893) is probably at top right.
The other woman and two children might be the sister Anna and her 2 kids.
From the collection of Molly Cinamon.
stamp on reverse:
Photograph
R. Sh. Bregman or Hersh Bergman
Horokhiv (Gorokhov), Volyn Gubernia
Negatives are saved
BTS note: Horokhiv (Gorokhov) is about 20 miles South of Lokachi

Yecht + Schleger Family from Lokacze לאקאטש (Yiddish) (Lacach)


March, 1921: My great grandmother Toby Yecht Shleger and daughter Sarah arrive Canada from Lokacz bound for daughter Rose Robinson in Montreal.
On August 1, 1921 they sail from Montreal headed to Portland Maine and daughter Esther Katz.

March 24-30, 1928 SS Berengaria Southampton to NYC: Rosia Rokejach, 28, b: Lokasz, Poland.
Rose's mother was Chana Schleger, and her mother was Rochel Leah Yecht, first wife of Avram Michel Schleger/Nelson.


Yehuda Eydel Stempel photographer in Lokacze from family postcard
Chandler & Filler Families from Kiselin, Vladimir-Volinskiy District, Volhynia Province, Ukraine Jewish Gen
50°52' N, 24°49' E.........Jewish Population in 1900: 873


1942 Irving Seigal Chandler Draft Registration. Born in Kiselin.


1899 Abraham Kruch Hamburg to London on Vesta; (Liverpool to Portland on SS Parisian)
Abraham Cook (Kruk) came from the town of Rozhysche Lutsk District, Volhynia Province Translation of Yizkor Book for Rozhysche


This is a line from a Hebrew list of family births in a Bob Cook's Shavuot Prayer Book, published in Vilnius. Lithuania, 1844, and now held by Judith Cook Tucker.
Alexander Shmuel born 3 Iyar 5606   Wednesday 29 April 1846 in Sokol, Ukraine, 10 miles from Rozhysche. [BTS: Shmuel, father of Abram Zvi Hersch]
I need to check whether there is a further date offset for Julian calendar in use in Russian Empire until 3/1/1918.


The Robinson family name was Yecht. David Robinson was born in Lokachi. His children in Kovel, Kovel District, Volhynia Province, Ukraine
Kovel is about 54 miles from Lokachi; Kovel Yizkor Book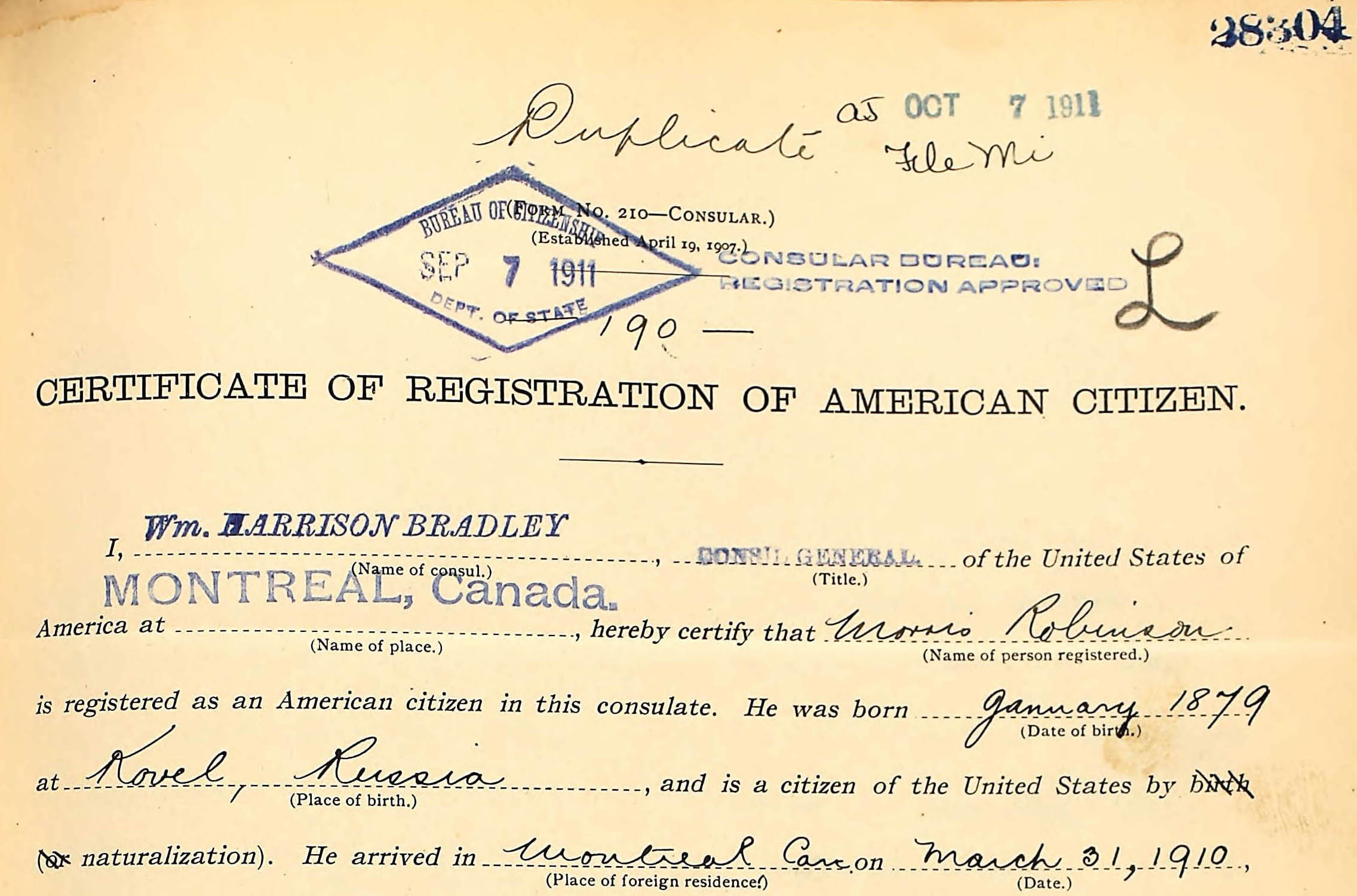 October 7, 1911 U.S. Consular Registration Certificate Morris Robinson.
Filler Family from Kovel, Kovel District, Volhynia Province, Ukraine Kovel Memorial Book ● KehilaLinks
51°13' N, 24°43' E...........Jewish Population in 1900: 8,521
Jewish Gen Family Finder.............Yizkor Books.............Shtetl Links


1899-1905 circa photo: Chana Filler, Rose Filler's sister Shmuel Filler, a brother, and his wife Mindel Ering
Studio: Leonard in Lutzk (in Russian). Lutsk, Ukraine, is 45.5 mi SE of Kovel
Lutsk ( half Łuck , German Luzk , yiddish לוצק, lat. Luceoria) is a city in Ukraine on the river Styr , the regional center of the Volyn region .
Political, cultural and religious center of Volyn.
In 1859 Lutsk was 59.5% Jewish

Jewish Vital Documents in Ukraine
Alex Krakovsky Ukrainian documents wiki
Donate: Scanners for the Ukrainian Archives
Jewish Documents kept by Ukrainian Archives
| | | | | |
| --- | --- | --- | --- | --- |
| Country | Oblast/District | Document Type | Repository City | Archive Type |
| UKRAINE | VOLYNSK | BIRTH | LUTSK | ARCHIVES |
| UKRAINE | VOLYNSK | CENSUS | ZHITOMIR | ARCHIVES |
| UKRAINE | VOLYNSK | IMMIGRATION | WARSAW | JEWISH HIST. INSTITUTE |
Locality/Town:     LOKACHI
Raion/Region:      LOKACHI
Oblast/District:     VOLYNSK
Country:     UKRAINE
Archive Name:     STATE ARCHIVE OF VOLHYNIA OBLAST
Archive Locale:    LUTSK
Archive Type:      ARCHIVES
Document Type: BIRTH
Year List:    1859;1861;1863
Fond/Opis/Delo:   96/1/221,324,414
Locality/Town:     LOKACHI
Raion/Region:      LOKACHI
Oblast/District:     VOLYNSK
Country:     UKRAINE
Archive Name:     JEWISH HISTORICAL INSTITUTE (WARSAW, POLAND)
Archive Locale:    WARSAW
Archive Type:      JEWISH HIST. INSTITUTE
Document Type: IMMIGRATION
Year List:    1929-1939 (POLISH ALIJAH PASSPORTS TO PALESTINE)
Fond/Opis/Delo:   115
Locality/Town:     LOKACHI
Raion/Region:      LOKACHI
Oblast/District:     VOLYNSK
Country:     UKRAINE
Archive Name:     STATE ARCHIVE OF ZHITOMIR OBLAST
Archive Locale:    ZHITOMIR
Archive Type:      ARCHIVES
Document Type: CENSUS
Year List:   1858 (INCLUDED IN VLADIMIR VOLYNSKIY UEZD
Fond/Opis/Delo:   118/14/300,308
4 Record groups are available for the locality / town of: KOVEL

UKRAINE VOLYNSK CENSUS ZHITOMIR ARCHIVES
UKRAINE VOLYNSK HOLOCAUST WARSAW JEWISH HIST. INSTITUTE
UKRAINE VOLYNSK IMMIGRATION WARSAW JEWISH HIST. INSTITUTE
UKRAINE VOLYNSK LOCAL GOVERNMENT KIEV ARCHIVES
2 Record groups are available for the locality / town of: KISELIN

UKRAINE     VOLYNSK    BIRTH            LUTSK           ARCHIVES
UKRAINE     VOLYNSK    CENSUS        ZHITOMIR    ARCHIVES
8 Record groups are available for the locality / town of: GOROKHOV

UKRAINE     VOLYNSK    BIRTH            LUTSK           ARCHIVES
UKRAINE     VOLYNSK    CENSUS        ZHITOMIR    ARCHIVES
UKRAINE     VOLYNSK    DEATH          LUTSK           ARCHIVES
UKRAINE     VOLYNSK    DIVORCE      LUTSK           ARCHIVES
UKRAINE     VOLYNSK    IMMIGRATION        WARSAW      JEWISH HIST. INSTITUTE
UKRAINE     VOLYNSK    JEWISH WORKERS ZHITOMIR    ARCHIVES
UKRAINE     VOLYNSK    LOCAL GOVERNMENT     KIEV  ARCHIVES
UKRAINE     VOLYNSK    MARRIAGE  LUTSK           ARCHIVES
LDS Site Family Search
https://familysearch.org/search
Lokachi, Russia   1,890 results for Event: Birth, Place: Lokachi, Country:Russia
Lokacze, Russia  31 results for Event: Birth, Place: Lokacze, Country:Russia
Alternate names: Lokachi [Ukr, Rus], Lokatsh [Yid], Łokacze [Pol], Lokach, Lokatchi, Lukach, Lokache
Region: Volhynia
Ukrainian: Локачі. Russian: Локачи. Hebrew: 'לוקאץ. Yiddish: לאקאטש
Lokachi, Ukraine: 50°44' N, 24°39' E
| | | | | |
| --- | --- | --- | --- | --- |
| Era | Town | District | Province | Country |
| Before WWI (c. 1900) | Lokachi | Vladimir | Volhynia | Russian Empire |
| Between the wars (c. 1930) | Łokacze | Horochów | Wołyń | Poland |
| After WWII (c. 1950) | Lokachi | | | Soviet Union |
| Today (c. 2000) | Lokachi | | | Ukraine |
Lokatch (Poland) Memorial Book
| | |
| --- | --- |
| Original Title: | Sefer yizkor le-kehilat Lokatsh (Polin) - Gedenk bukh far di shtetl Lokatsh |
| English Title: | Lokatch (Poland) memorial book* |
| Editor: | Compiled by: Eliezer Verba; ed.: Shimon Matlofsky |
| Published: | Jerusalem 1993 |
| Publisher: | Shimon Matlofsky |
|   | Pages: 132  Languages: H, Y |
| Notes: | English introduction |
Harvard University Library, Cambridge, MA, United States, Call No: Heb 42956.407
University of Michigan, Ann Arbor, MI, United States, Call No: Has book
New York Public Library, Jewish Division, New York, NY, United States, Call No: *PXW(Lokachi) 93-563
YIVO Institute for Jewish Research Library, New York, NY, United States, Call No: /90147
Price Library of Judaica, University of Florida, Gainesville, FL, United States, Call No: Has book
British Library, London, , England, Call No: Has book
Bar-Ilan University, Ramat-Gan, , Israel, Call No: D47(438)
Hebrew College, Newton Centre, MA, United States, Call No: XZD Lokatch
University of Haifa, Haifa, , Israel, Call No: 0574987
Clark University, Worcester, MA, United States, Call No: NOT THERE
Jewish National and University Library, Jerusalem, , Israel, Call No: 1282597
TOPONYMIC GUIDELINES For map and other editors
Table 7.4 – The list of the units of administrative and territorial division of Ukraine and their capitals
Cyrillic form of the name (область)
Romanized form of the name (oblast)
Cyrillic form of the oblast capital's name
Romanized form of the oblast capital's name

Volynska oblast

Ковельський
Kovelskyi
Ковель
Kovel
Локачинський
Lokachynskyi
Локачі
Lokachi
ВолодимирВолинський
VolodymyrVolynskyi
ВолодимирВолинський
VolodymyrVolynskyi
Горохівський
Horokhivskyi
Горохів
Horokhiv
Рожищенський
Rozhyshchenskyi
Рожище
Rozhyshche
Луцький
Lutskyi
Луцьк
Lutsk
Geni: Jewish Families of Volhynia (Wolin) Gubernia
Yahad-in Unum execution site for Lokachi
Locatcher Young Mens Benevolent Association
How Ukraine Became Ukraine--a history with maps
Lokachi Kehilalinks page (DRAFT)
● Home  ●  Contact me  ●