Filler Family Photos
More Filler photos: Joe Chandler's Dearest Rachel Illustrated, and Joe Chandler's Photo Album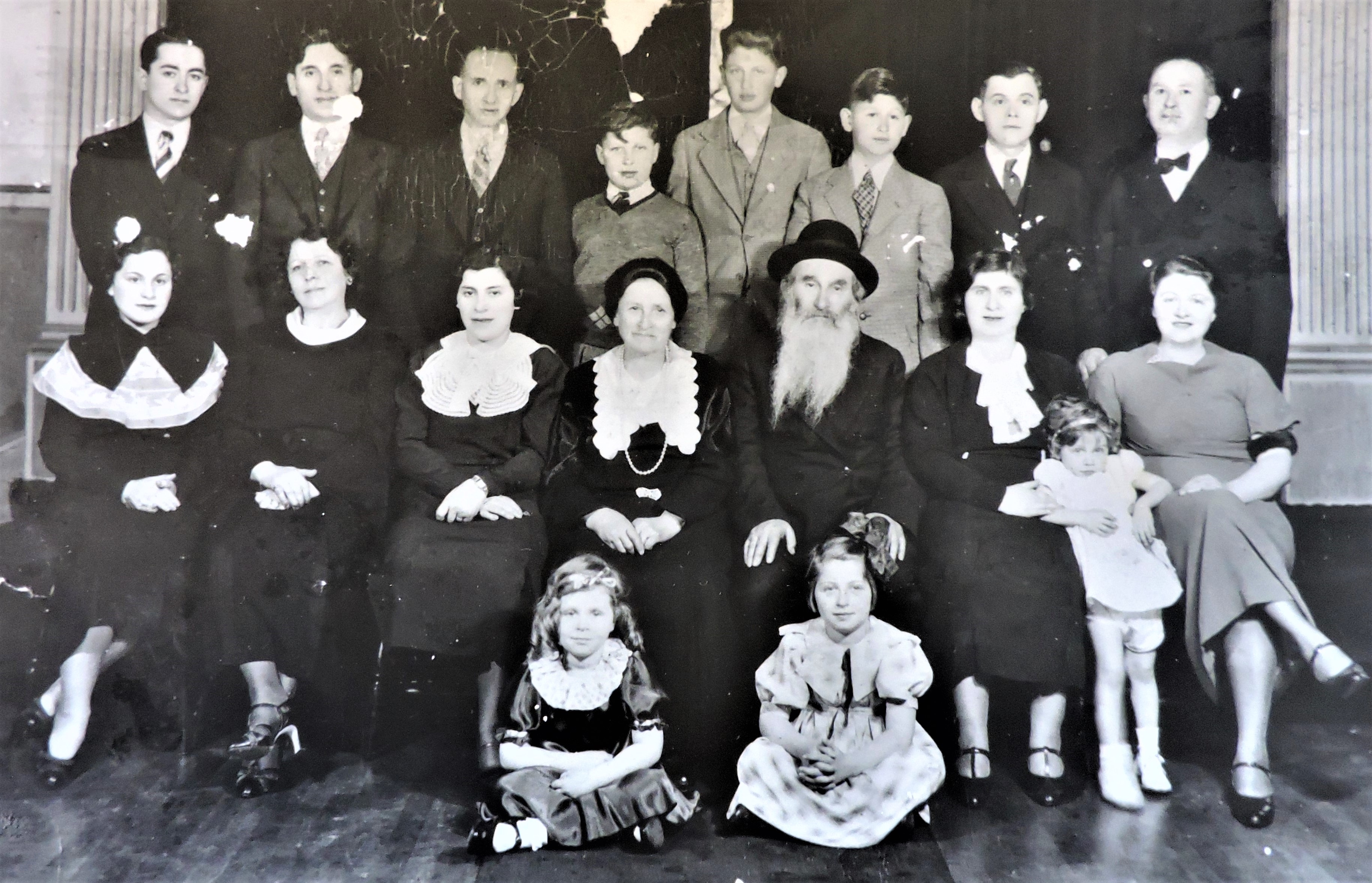 [circa 1935: 50th Anniversary Max/Mottel/Mordechai Tabakhendler Siegal and Odas/Hodas/Hoodis Filler
Front, L to R: Ethel Goldman (b 1929) and Elaine Chandler (b: 1927)
Middle, L to R: Miriam (Mickey) Chandler, Rose Filler Chandler, Rita Cywla Seigal Mackson, Udes Filler Seigal Tabakhendler, Motel Seigal Tabakhendler,
Cypa Celia Tabakhendler Seigal Goldman, Miriam Goldman (b 1931), Etta Cohen Seigal Chandler
Rear, L to R: Louis Chandler, Nathan Chandler, Henry Mackson, Joe Chandler (Nathan's son), Douglas Chandler, Joseph H. Chandler (Irving's Son), Henrey Mackson, Irving Seigel Chandler
photo from Laura Goldman collection, via Issie Perel; identifications thanks to Nada Chandler. ]

1947, Italy: Hayim and Mindel Filler. Avi Filler collection.

April 6, 2019, Kfar Saba, Israel: Avi Filler and family. photo by Larry Waxler
Right to Left (since it's Israel): Ahuva, Avi, Alon, Eden (Oren's daughter), Oren, and Amit (Alon's son)
Larry's wife Karen Waxler, and Karen Chandler and her husband Phil Vince were also a part of the Maine delegation!
© Barbara Toby Stack where not otherwise indicated