Milly Rosner
April 12, 1926 - March 10, 2012
At Milly's family's request, donations in her memory may be made to the Milly Rosner Scholarship Fund,
which is designated specifically for financial aid for students attending
The Crowden School. 

Milly in the News

8/23/2020 Debbra Wood Schwartz Obituary, Berkeley Daily Planet, SF Chronicle
"With her great friend (and legendary Bay Area cello teacher) the late Milly Rosner, Debbra founded Summer Music Berkeley,
a chamber music camp for string players which took place at the Crowden School."


7/6/2019: San Francisco Classical Voice: Cellist David Requiro Is on His Game at Music@Menlo, by Jeff Kaliss
"And my main cello teacher in the Bay Area, Milly Rosner, gave me so much attention, I can't believe how lucky I was"


10/25/2018, SLATE, I Got Shushed at a Yo-Yo Ma Concert, by Kaya Oakes
"my demanding childhood cello teacher insisted they should be bowed legato"


Milly's sheet appears in 2016 film Political Animals

March 10, 2016

Good Evening Everyone,

I hope you are all well.

Thinking of Milly today as I watch the rain. After she had gotten her Barcalounger, she loved to settle into it on rainy days, cover with her quilt, and either read or watch an opera on television. She said that it reminded her of the snowy days back East, when she didn't have to go out, and could just cuddle in.

A lot has happened since my last annual email. Babies have been born, both in her nuclear family and her extended family. There have been a couple of weddings. At least one of her students won an international competition, and another one put on a major cello bash. Congratulations to both of them. You know that Milly is smiling. So many of her little ducklings have grown into wonderful musicians. And, luckily, I get to see some of their Facebook posts, and marvel at how many cellists she launched into the world.

Unfortunately, one of Milly's oldest friends died several days ago. She had known Robert Burlin since her days in New Haven; and, he had even lived with her for awhile when he first moved out here. One of the many of us she took in to the fabulous world she created for herself.

It isn't just cellists that remember Milly. I was at the theater several months ago, and one of the performers played a violin piece as part of her character. At the afterglow we talked, and I learned that she had been at Summer Music Berkeley, and Milly had been one of her Chamber Music teachers.  We had this delightful conversation about what it meant to know someone "larger than life".

So, even 4 years after her death, this "larger than life" woman stays in our lives, and our thoughts.

She loved you all,

Pearl
Pearl Rozner Lipner

Hi Josh!

Please, please feel free and welcome to copy and share these photos as you remember and honor Milly.

New! Thanks to Richard Links!


Milly's Phone Message (.mp3 file185 KB)

Milly's Oral History taken by Marilynn Roland, Spring, 2001

San Francisco Chronicle Monday, April 23, 2012, JOHN REID
"He taught this class at the home of the late Milly Rosner every Thursday night for nearly 30 years."
Link seems to have expired
In Memoriam: Milly Rosner 'Teacher to the End,' BY JANOS GEREBEN
Milly's Student Jay Campbell Wins Naumburg Prize
2012 04-21 Celebrate Milly Concert Program

October 1, 2014, Sproul Plaza, UC Berkeley: Dolores Huerta speaks. Walter Riley is to her left.
"Free Speech" banner was made from one of Milly's sheets!
Photo (c) Richard Hertzberg.


Program as pdf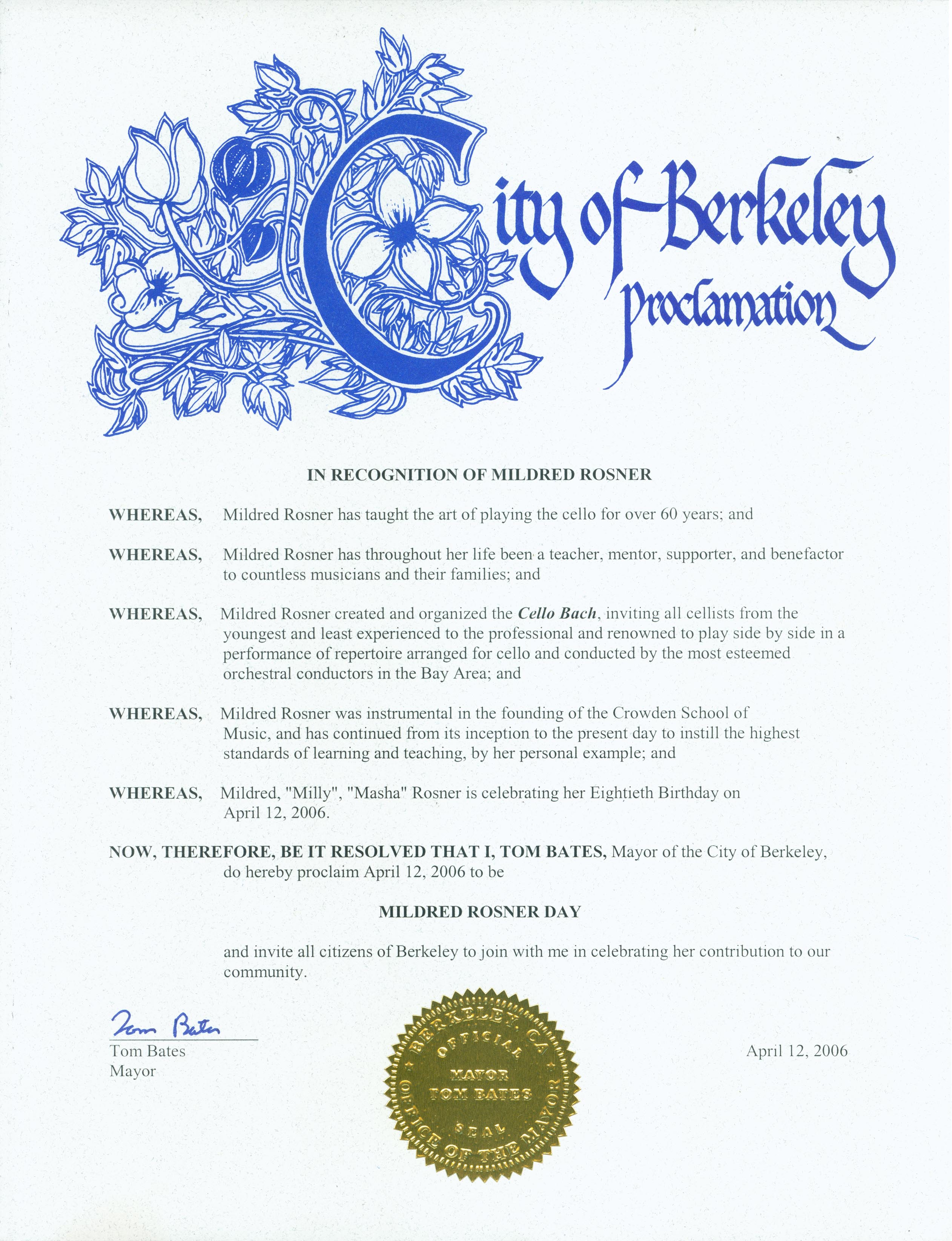 Milly's Parents:

1941, John Marshall High School, Chicago, IL

Milly at Yale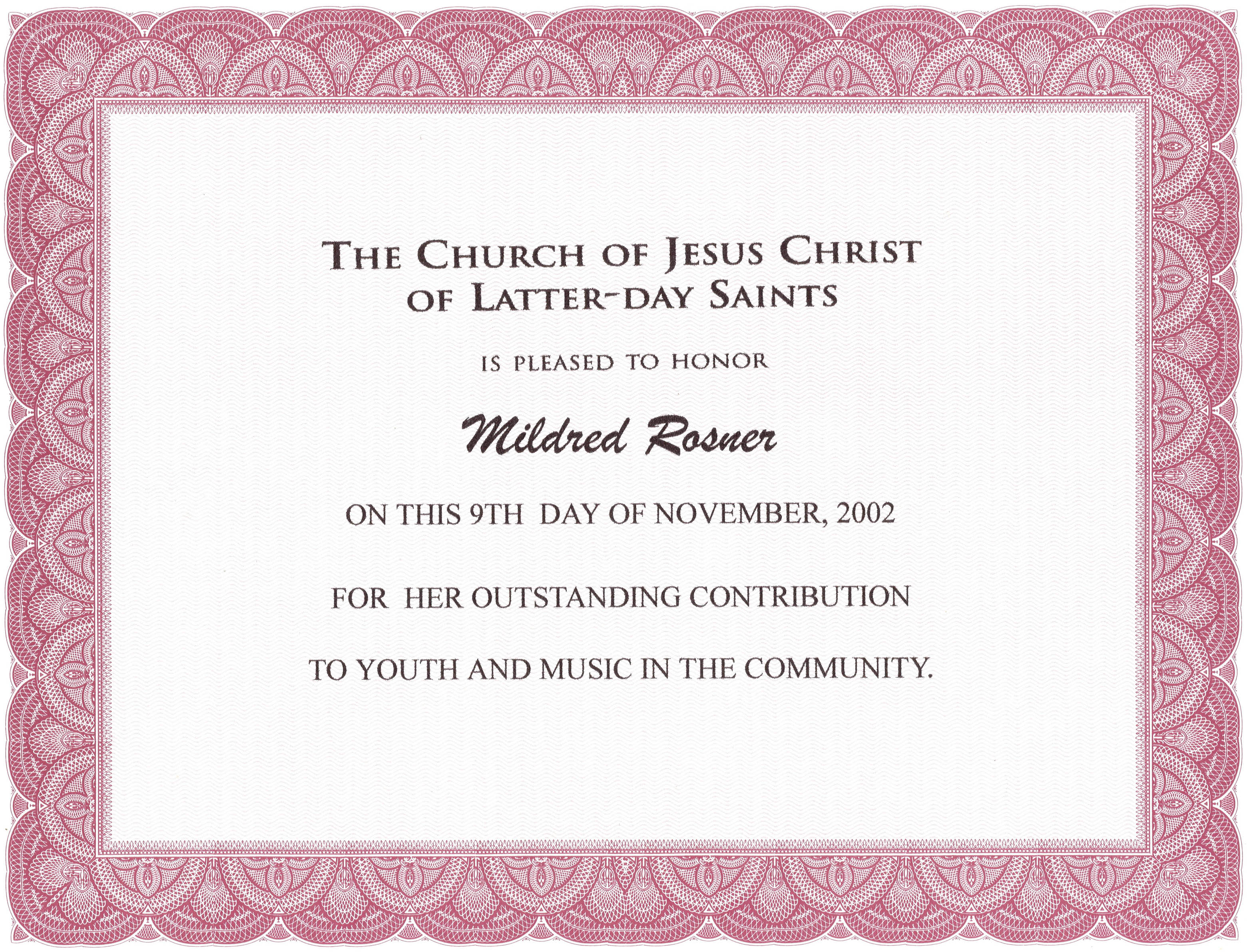 November 9, 2002, Oakland. Barbara Toby Stack photo.

The New Milly

photo by Mark Churchill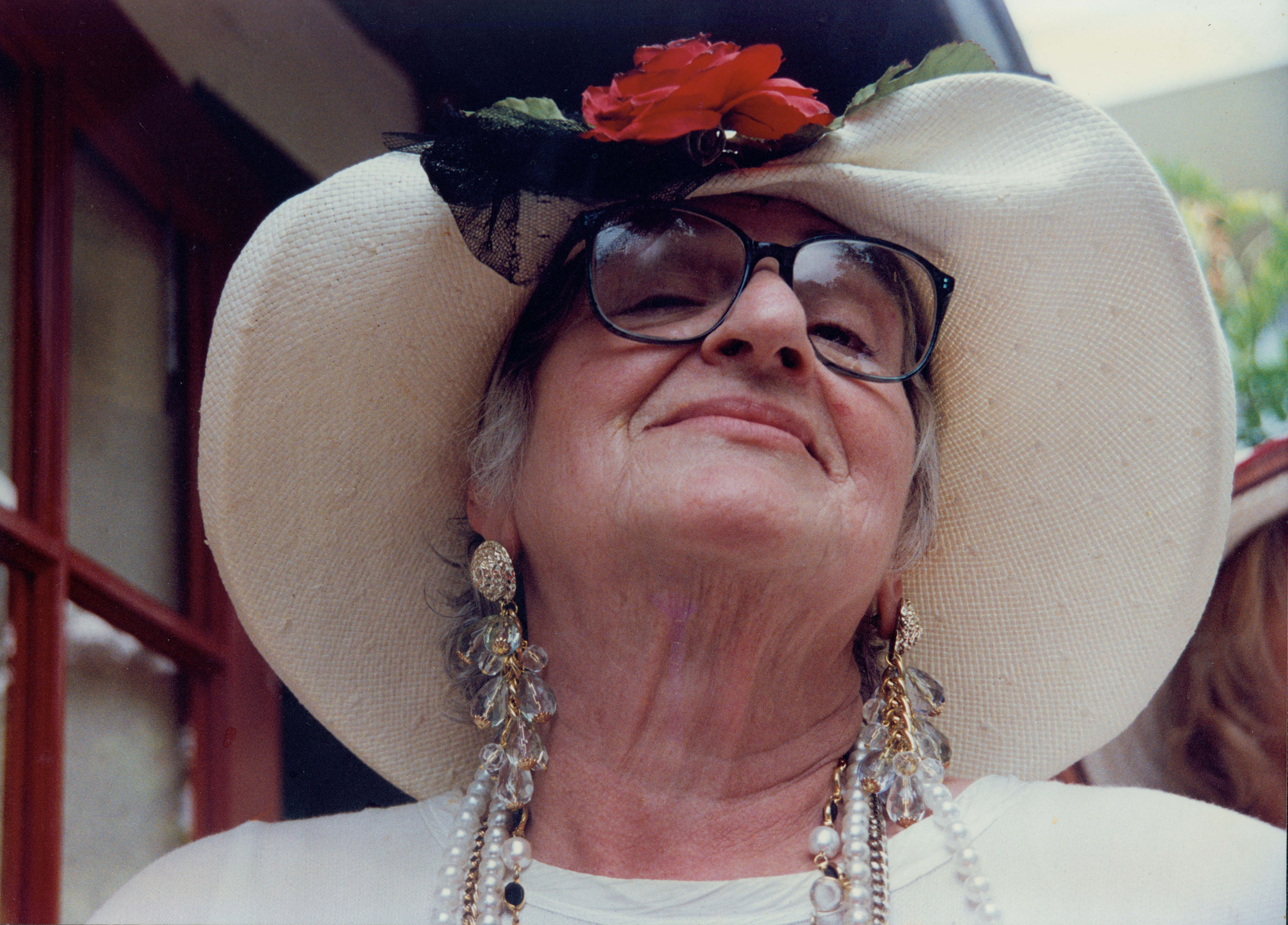 probably taken at one of Milly's July 4 parties by Sara Webster (per Pearl Rozner Lipner)

1995 Milly and her hats

Emil Miland and Milly

Milly and Ljuba Davis

1999: Milly and her student Naumburg winner David Requiro U Puget Sound bio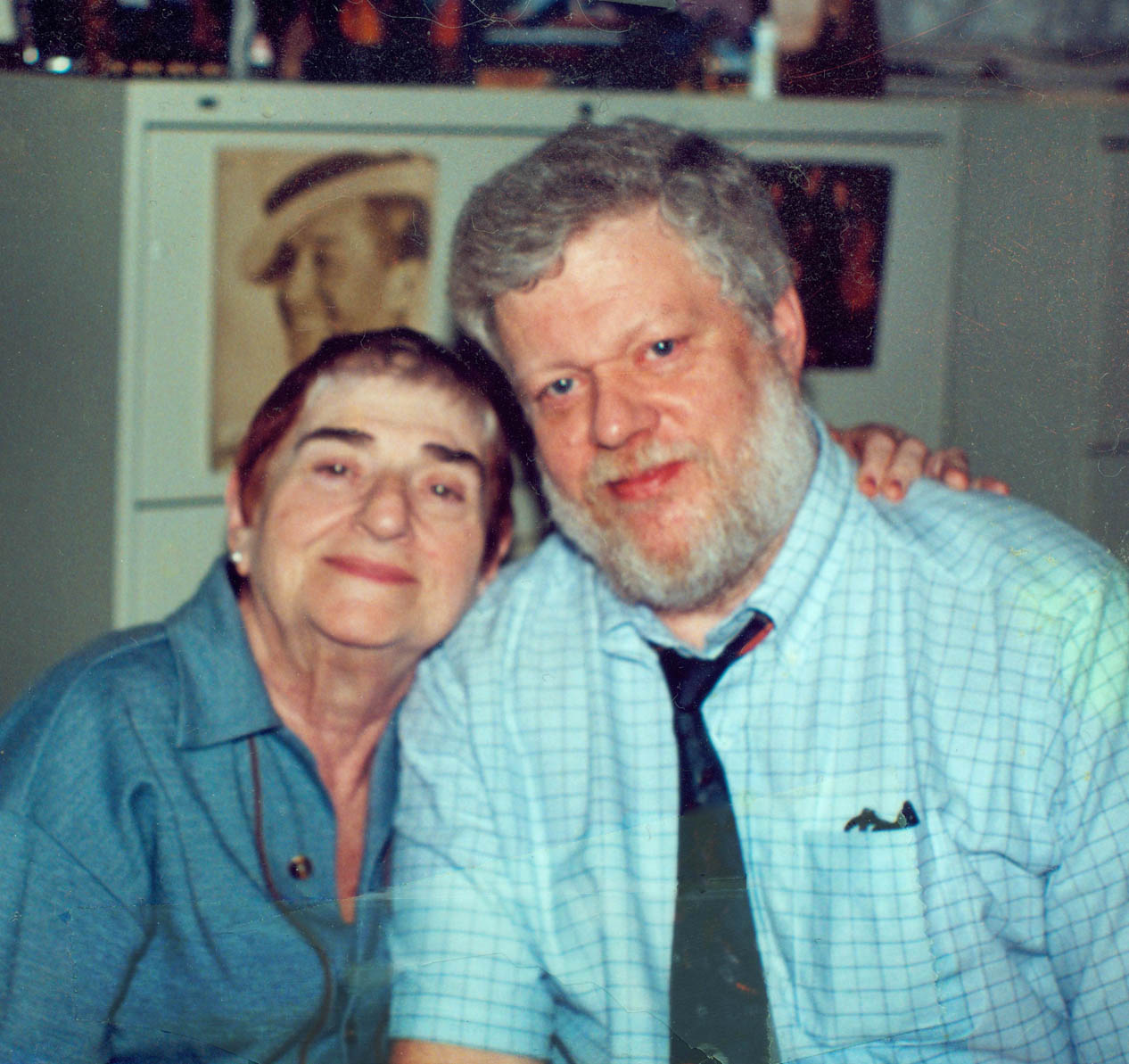 Milly and Miles Graber

2002: Milly and Christine Chu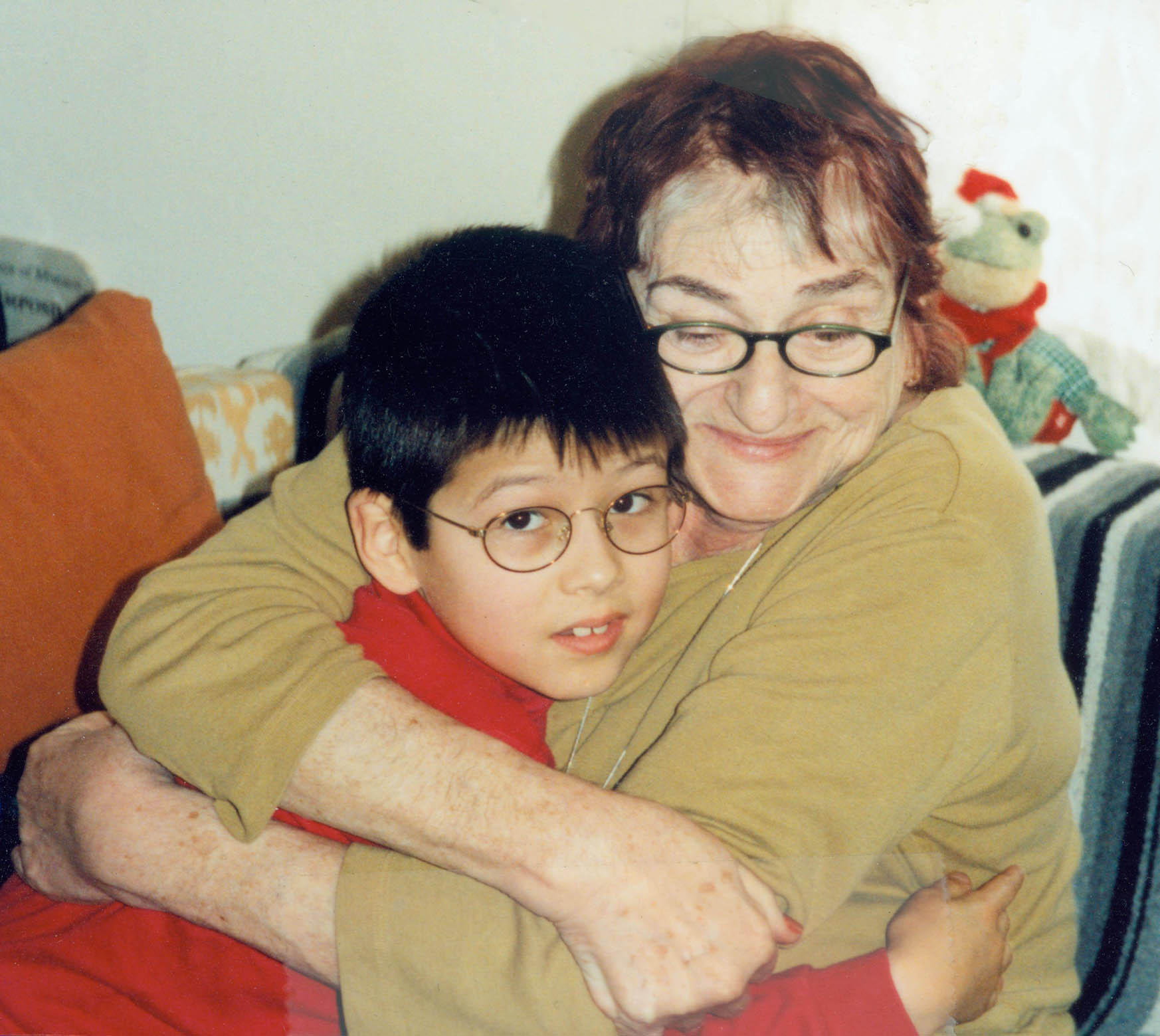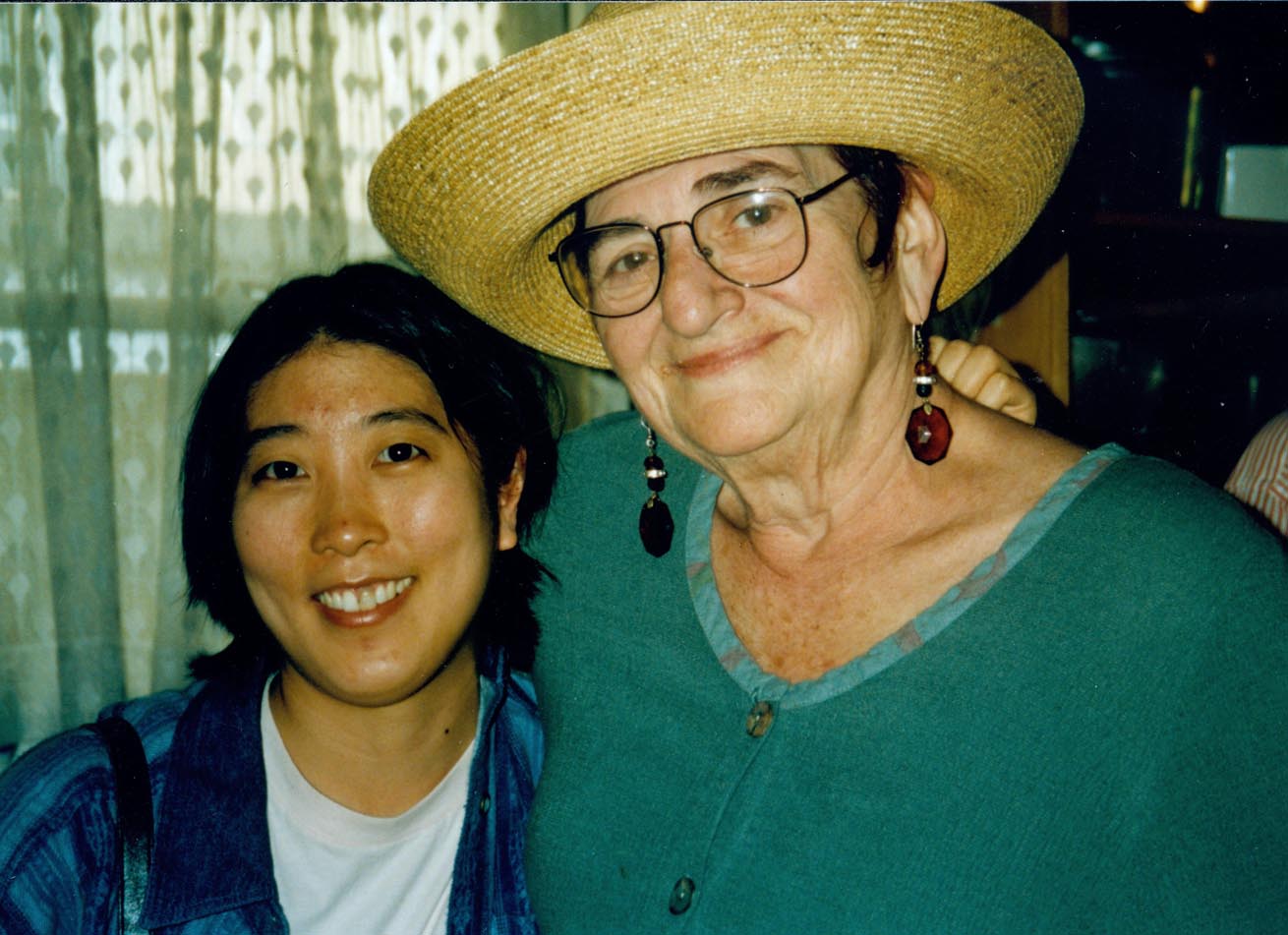 Milly and Joan Hadeishi

1993 Milly and Sergei Riabtchenko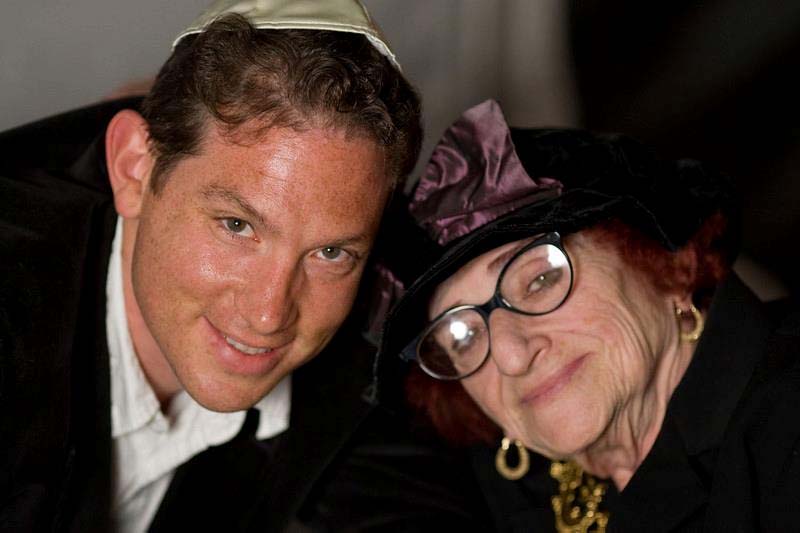 David Davis and Milly

Anthony Yee and Milly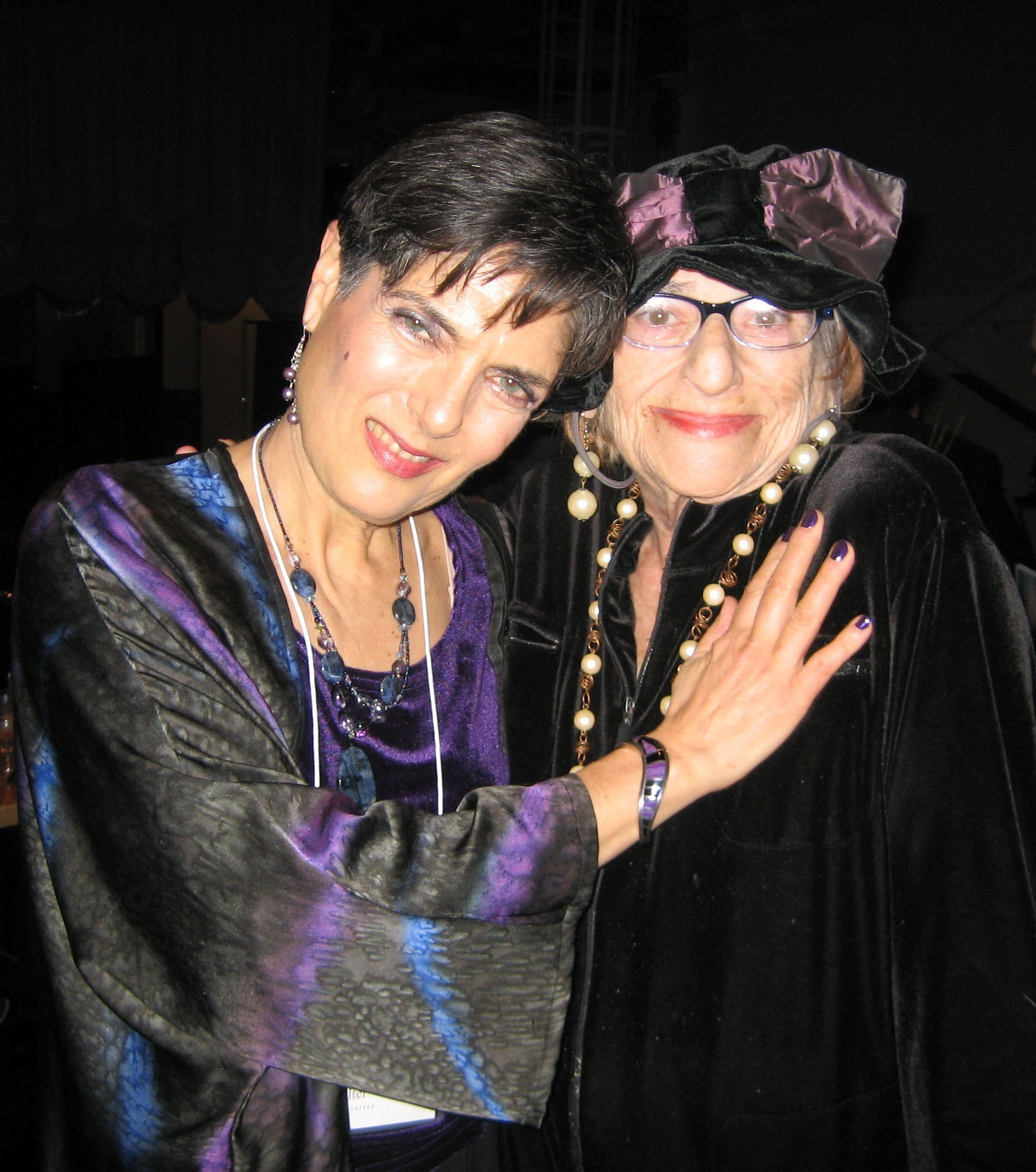 March 12 2011, Crowden Gala: Joan Balter and Milly.

Milly and Lois Stevenson at the 20s party

who are these people? Contact me.

2008 11-08 Cello workshop. Photo by Bobby Koch
who are these people? Contact me.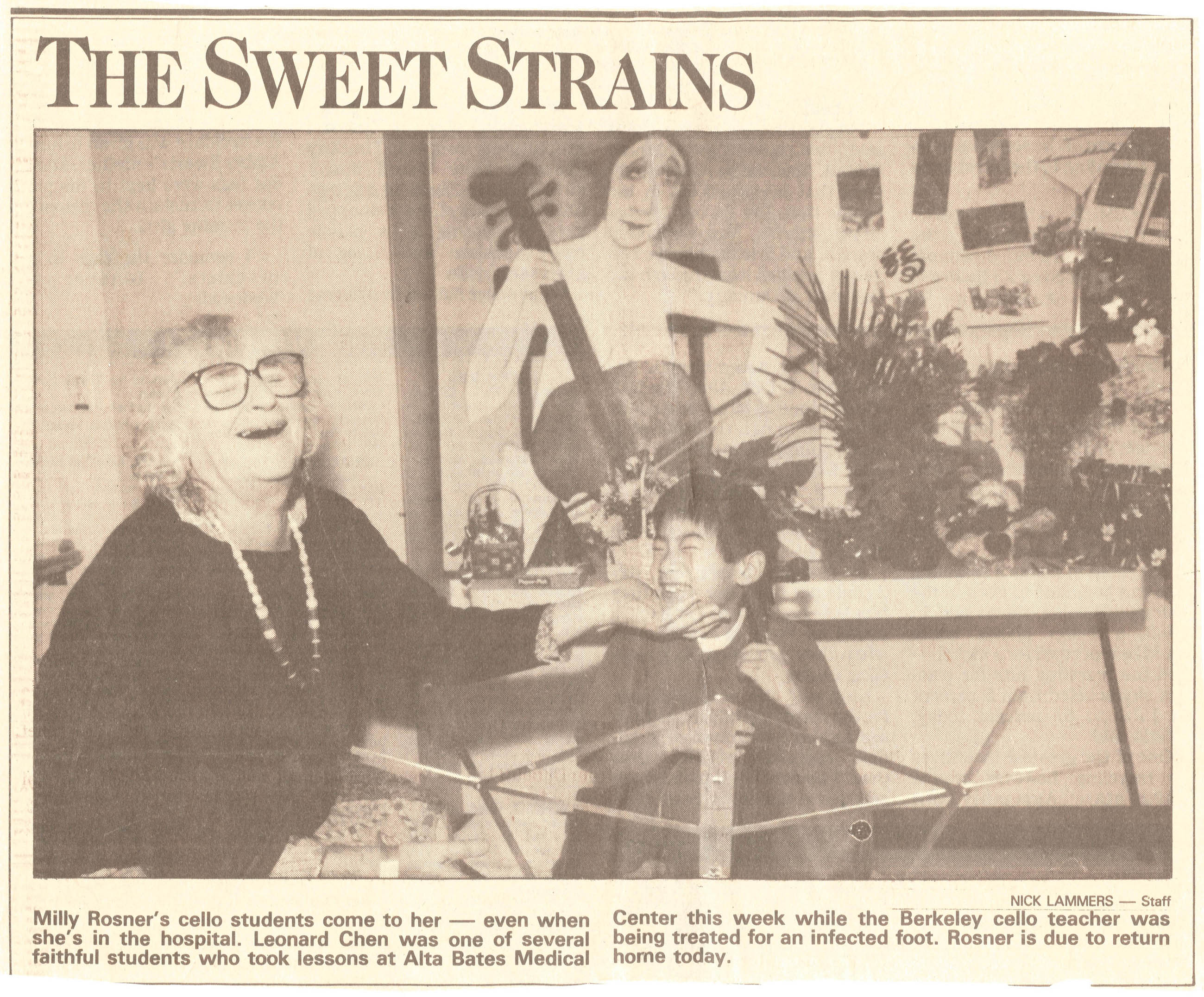 This is actually Leonard Cheng. He started his first cello lessons with Milly in the hospital.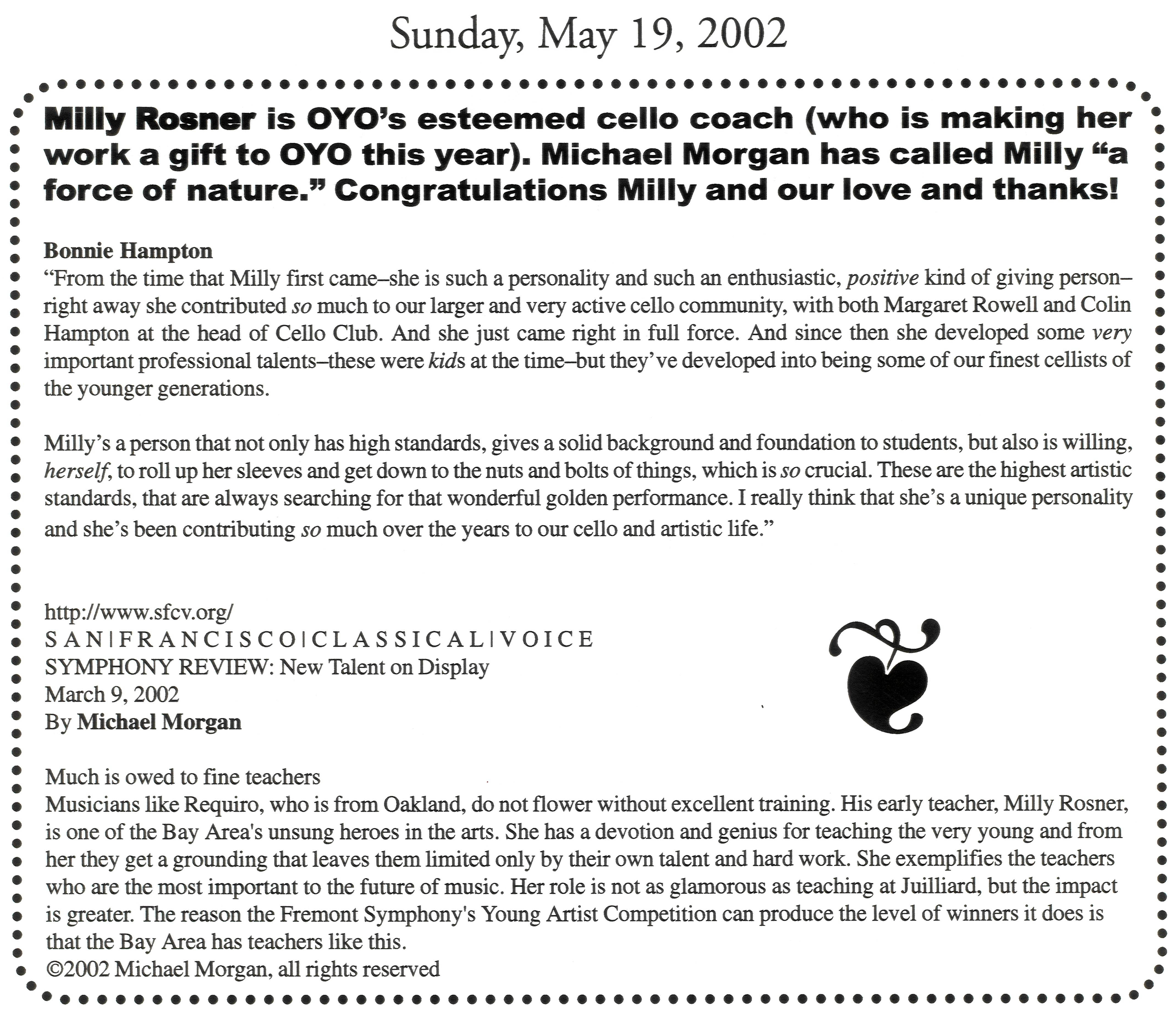 Milly Rosner Interview Part One, Anne Crowden and Crowden School
Milly Rosner Interview Part two, Milly Shares Some Personal Stories
Milly Rosner Interview NEW Part Three, Teaching With Anne Crowden
San Francisco Classical Voice May 16-29, 2006
Crowden concert honoring Milly on her 80th Birthday
OYO Newsletter Fall, 2002
Milly Honored as Outstanding Oakland Music Teacher
Crowden noted that 16 per cent of the earned (tuition) income budget goes for scholarship, a fact on which Millie Rosner, a cello teacher and something of an institution herself, commented, "Anne doesn't turn anyone away. She's got a soft heart."
Oakland Youth Orchestra Concert Program
May 20, 2007
Milly Rosner has taught over 60 OYO alumni. Among the most distinguished are:
Peter Shelton, OYO 71-72, associate principal cello of the San Francisco Symphony
Jennifer Culp, OYO 73-76, cellist, Kronos Quartet
Emil Miland, OYO 74-77, cellist, SF Opera Orchestra and soloist
Dawn Foster-Dodson, OYO 75-77, cellist San Diego Chamber Orchestra, San Jose Symphony, SF Ballet & Opera Orchs, California Symphony.
Robin Bonnell, OYO 77-80, cellist New Century Chamber Orchestra.
Among Milly's students, past winners of the OYO Concerto Competition include Emil Miland in 1976-77, Michal Shein in 1997-98, and Lucas Chen in 2001-02.
Brava Milly!