January 25, 1904: Chajan Olchowsky Arr Philadelphia from Liverpool on Merion.
Going to brother-in-law Bennie Nemerofsky, 523 Green St., Philadelphia
Last residence: Stepany, possibly Stepantsi, Cherkasy Oblast, Ukraine, or Stepan, Ukraine
This is probably Chaim Olichowsky who changed his name to Hyman Wilson


June 13, 1904: Peische Olechowsky arrival in Philadelphia from Liverpool on Noordland.
Last Residence: Boguslaw, probably Bohuslav, Ukraine, Very near Stepantsi, Cherkasy Oblast, Ukraine
Going to Uncle Abram Polusky, 702 S 3rd Street, Philadelphia


October 16, 1905: Mechl Olichowsky Arrival Philadelphia from Liverpool on Merion
Going to Uncle Chaim Olichowsky, 902 S. 5th Street, Philadelphia

April 25 1906: arr Selde, Masche & Keile Olchowsky in Philadelphia from Ekatermoslaw via Liverpool.
Going to Cousin Chaima Olchowsky, 902 So. 5th St, Philadelphia, roofer and bricklayer (see below)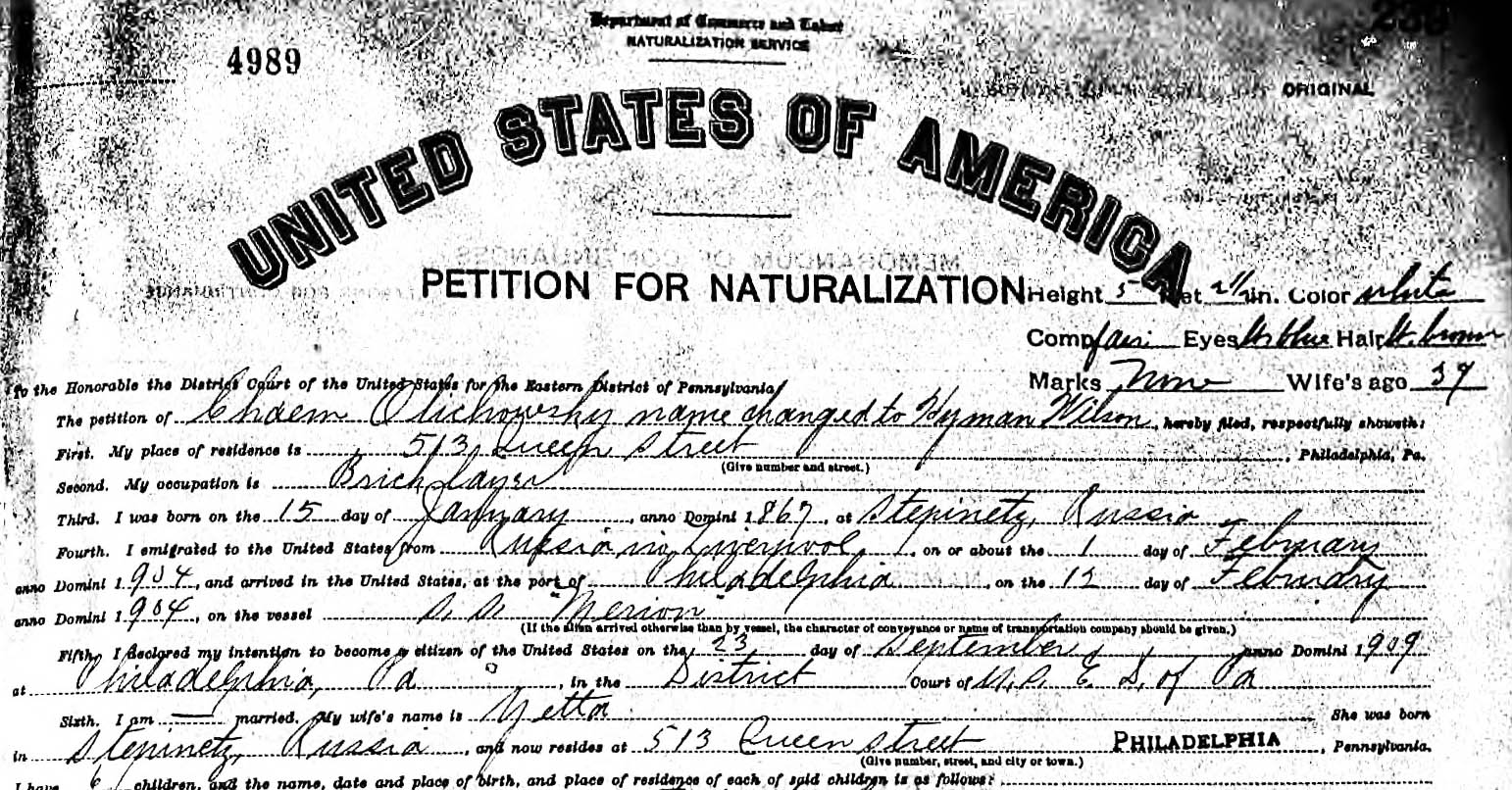 Chaim Olichowsky changed his name to Hyman Wilson.
Arrived Philadelphia 2/12/1904 on SS Merion from Liverpool. See January 25, 1904 above.


July 15, 1906: Feige Olichowski Manifest
SS Westernland: Liverpool to Philadelphia: 7/4/1906 to 7/15/1906; Last res: Ekaterinoslav
Prior to 1926 the city currently called Dnipro was known as Ekaterinoslav
Arrival Age 38; Birth Date c 1868
Son Michial Olichowski lives with uncle at 1003 S. Leithgow St.
This could be Meyer.

April 20, 1922
: Morris Wilson Petition for Naturalization
Morris Wilson, tailor; Birth: 3/14/1891, Russia;
4/12/1905 Arrival Philadelphia from Liverpool 0n SS Haverford
Children: Bernard b: 6/23/1913 PA; Bertha: b: 11/8/1914 PA; Julia: b: 12/27/1921 NY