Resnick Yecht Female Line of Mitochondrial DNA
Mitochondrial DNA tests trace people's matrilineal (mother-line) ancestry through their mitochondria,
which are passed from mothers to their children.
Since everyone has mitochondria, people of all genders can take mtDNA tests.
* = shares Mitochondrial DNA
Ukraine circa 1906-1910. Molly Cinamon collection
Toby Yecht Schlager Nelson Sacknoff, perhaps taken in 1924 before her wedding to Max Sacknoff. Anne Thorner Stack collection.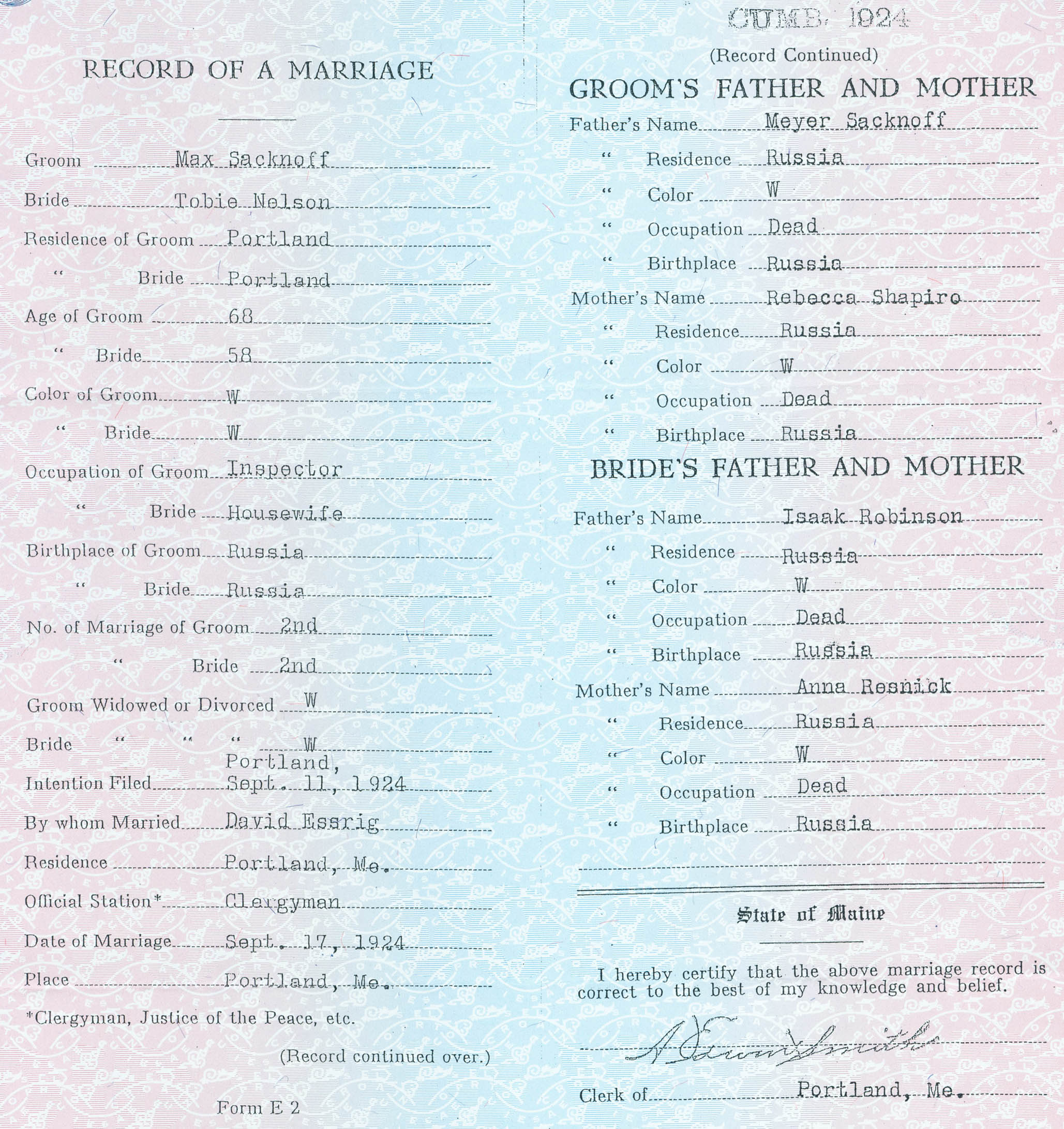 September 24, 1924, Portland, Maine: Tobie Nelson Marriage: Daughter of Isaac Robinson and Anna Resnick
* = known living female descendants in this line

Isaac Yecht + Anyeh Resnick*
Fayga Yecht + Nachman Wolf Cahn (only sons)
Toby's half? Sister Rochel Leah Yecht* + Avram Michel Schleger/Nelson
Bessie Pesha Miriam Nelson + Abram Zvi Hersch Kruk Cook (only sons)
Chana Schleger* + Rabbi Moshe Rokeach (4 daughters)
Rifka Shlager (died shoah)
Malkah Simma Yecht + Mordechai Mendel Schiff (3 daughters; seem to be no females in this line alive)
Taube/Tobie Yecht/Echt* + Avram Michel Schleger/Nelson
Esther Schacter* + Harry Katz
Rebecca Schlager Nelson* + Abraham Thorner
Etta Devora Nelson* + Joseph Chase
Sarah Nelson* + John William Schwartz

H1bo
© Barbara Toby Stack where not otherwise indicated