On July 20, 2015 I received an email from Eric Gardner, then 15: "I think we might be related! My great-great grandparents names were Jacob Slotnick (his birth name was Isaac) and Fruma Stockwitz."
For me the key cofirming fact was that Eric's great grand-aunt was Bella Slotnick Brunswick, who had long been a mysterious entry in my aunt Fanny Stackowitz Supovitz's addressbook.
Both families descend from a marriage of a Stachowitz and a Slotnick, and we appear to be related in both pathways.
Eric shared his great great grandparents' death certificates and headstones:

Fruma Slotnick, daughter of Shepsel

Fannie Starschevitz Slotnick, daughter of Samuel Starschevitz and Baille.
Fannie/Fruma appears to be the younger sister of my great grandfather Mathew/Mattias/Matityahu HaLevi Stasiovich b: 1846 - 1853. His parents were Shepsl Stasiovich and Bayl Nysonovicheva.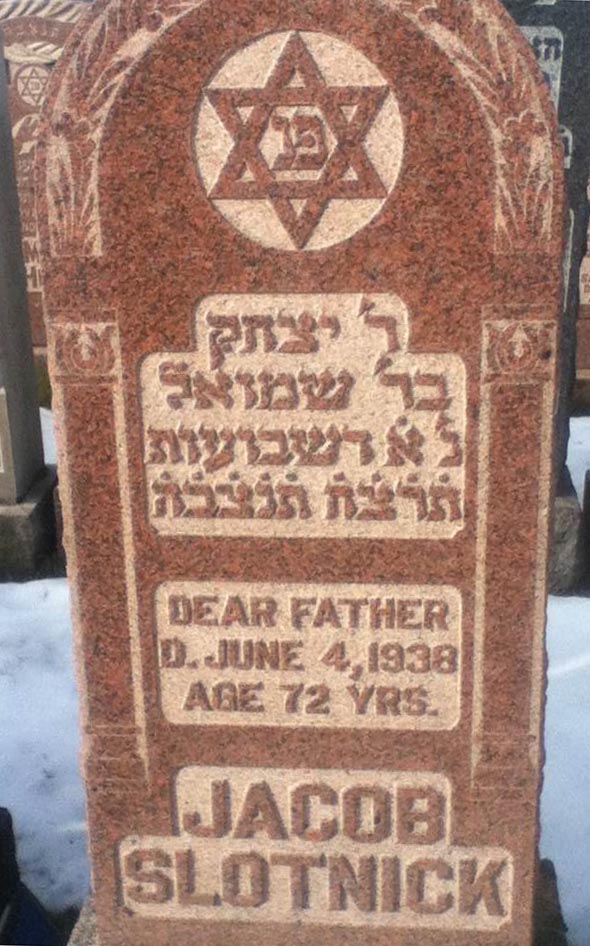 Jacob/Yitzchak Slotnick, son of Shmul; d: June 4, 1938

Jacob Slotnick, son of Samuel Slotnick and Fannie Stackovitz
Jacob also appears to be related to my branch, and he may then have been a cousin to his wife, if Samuel Slotnick = Shmul Zlotnicka b: c1818 AND Rose = Rukhlya Pokornyj b: c1825 Nowy Dwor.
1 Shepsl Stasiovich
.. +Bayl Nysonovicheva
..... 2 Mathew Mattias Matityahu Nisan HaLevi Stasiovich b: 1846 - 1853
......... +Sarah Sura Krajna Krydl Zlotnicka b: 1846 - 1853 m: 17 Aug 1871 in Nowy Dwor, Pol
............ 3 Isaac Stasiovich Stachowitz b: 6/15/1875 in Warsaw, Pol d: 9/22/1948 in Lewiston, Maine
................ +Ethel Oldstein b: 1/8/1872 in Nowy Dwor, Pol d: 3/1/1949 in Lewiston, Maine,
................... 4 Isadore Stackowitz b: 1/17/1910 Brooklyn, NY d: 1/20/1970 in Massachusetts
....................... +Anne Thorner b: 1/30/1916 Brooklyn, NY d: 5/24/2012 Houston, TX
.......................... 5 Barbara Toby Stack b: 29 Jul 1947 Dover, NH
1 Shepsl Stasiovich
.. +Bayl Nysonovicheva
..... 2 Fruma Fannie Stachowitz b: Abt. 1873 in Poland d: 19 Mar 1910 in USA
......... +Jacob Slotnick b: Bet. 1866 - 1868 in Poland d: 04 Jun 1938 in Boston, MA
............ 3 Samuel Slotnick b: 06 Oct 1903 in Poland d: 14 Mar 1991 in Stoughton, MA
................... 4 Richard Warren Slotnick
.......................... 5 Nancy Joyce Slotnick
.................................. 6 Eric Albert Gardner
1 Shmul Zlotnicka b: c1818
. +Rukhlya Pokornyj b: c1825-10/24/1872 Nowy Dwor
.... 2 Sarah Sura Krajna Zlotnicka b: Bet. 1846 - 1851
........ +Mathew Mattias Matityahu HaLevi Stasiovich b: Bet. 1846 - 1853 m: 17 Aug 1871 in Nowy Dwor, Pol
........... 3 Isaac Stasiovich Stachowitz b: 15 Jun 1875 in Warsaw, Poland d: 22 Sep 1948 in Lewiston, Maine
............... +Ethel Oldstein b:1/8/1872 Nowy Dwor, Maz, Pol d:3/1/ 1949 Lewiston, ME, US m: cNov 1891 Pol
.................. 4 Isadore Stackowitz b: 17 Jan 1910 Brooklyn, NY d:1/20/1970
...................... +Anne Thorner b1/30/1916 Brooklyn, d: 5/24/2012 Houston, TX m:10/12/1944 Biddeford, ME
......................... 5 Barbara Toby Stack b: 29 Jul 1947 in Dover, NH
1 Samuel Slotnick
.. +Rose
..... 2 Jacob Slotnick b: Bet. 1866 - 1868 in Poland d: 04 Jun 1938 in Boston, MA
......... + Fruma Fannie Stachowitz b: Abt. 1873 in Poland d: 19 Mar 1910 in USA
............ 3 Samuel Slotnick b: 06 Oct 1903 in Poland d: 14 Mar 1991 in Stoughton, MA
................... 4 Richard Warren Slotnick
.......................... 5 Nancy Joyce Slotnick
.................................. 6 Eric Albert Gardner