The First New Hampshire Thorners
Henry Thorner and Family
Seeking Benjamin A Shapiro who posted a photo on Geni.com.
From Fay Bussgang:
TORUŃCZYK, Chajm (ca 1777-) & WARTSKA, Etta/Itta
…TORUŃCZYK, Icek (1806-3/25/1878) & PIOTROWSKA, Rojza (1807-5/22/1882)
……TORUŃCZYK, Dawid (1828-4/29/1906) & FRENKIEL, Glicka (Augusta) (c1852–10/31/1905)
………THORNER, Henry (1885-1965) & STUEHLER, Rose & STUEHLER, Freda
My Uncle Mel Thorner (1921-1999) lived in Manchester from around 1950, and per his son, Richard, had heard of Henry Thorner, wondered whether they might be related, but never met him. They were 2nd cousins twice removed.
From Fay Bussgang:
TORUŃCZYK, Chajm (ca 1777 - ) & WARTSKA, Etta/Itta
…Abram TORUNCZYK (1803-1880) + Ester Bine WIDAWSKA (1805-?)
……Meir Teronchek 1829-1879 + Malka Zylberberg
………Glicke/Gussie Teronchek (1857-1926) + Abraham Chshunstofsky/Thorner (1854-1932)
…………Abraham Thorner (1887-1941) + Rebecca Nelson (1891-1945)
……………Melvin Thorner (1921-1999)


September 6, 1901: Arr. NYC from Hamburg on Augusta Victoria
Salomon Thorner, age 19, going to brother Sam then brother William
Wolf/William TORONCZYK, b 1871, son of Dawid TORUNCZYK and Ruchla LAUTENBERG was his half brother,
as was Wolf's brother Szmul/Samuel THORNER/Torunczyk, born 1874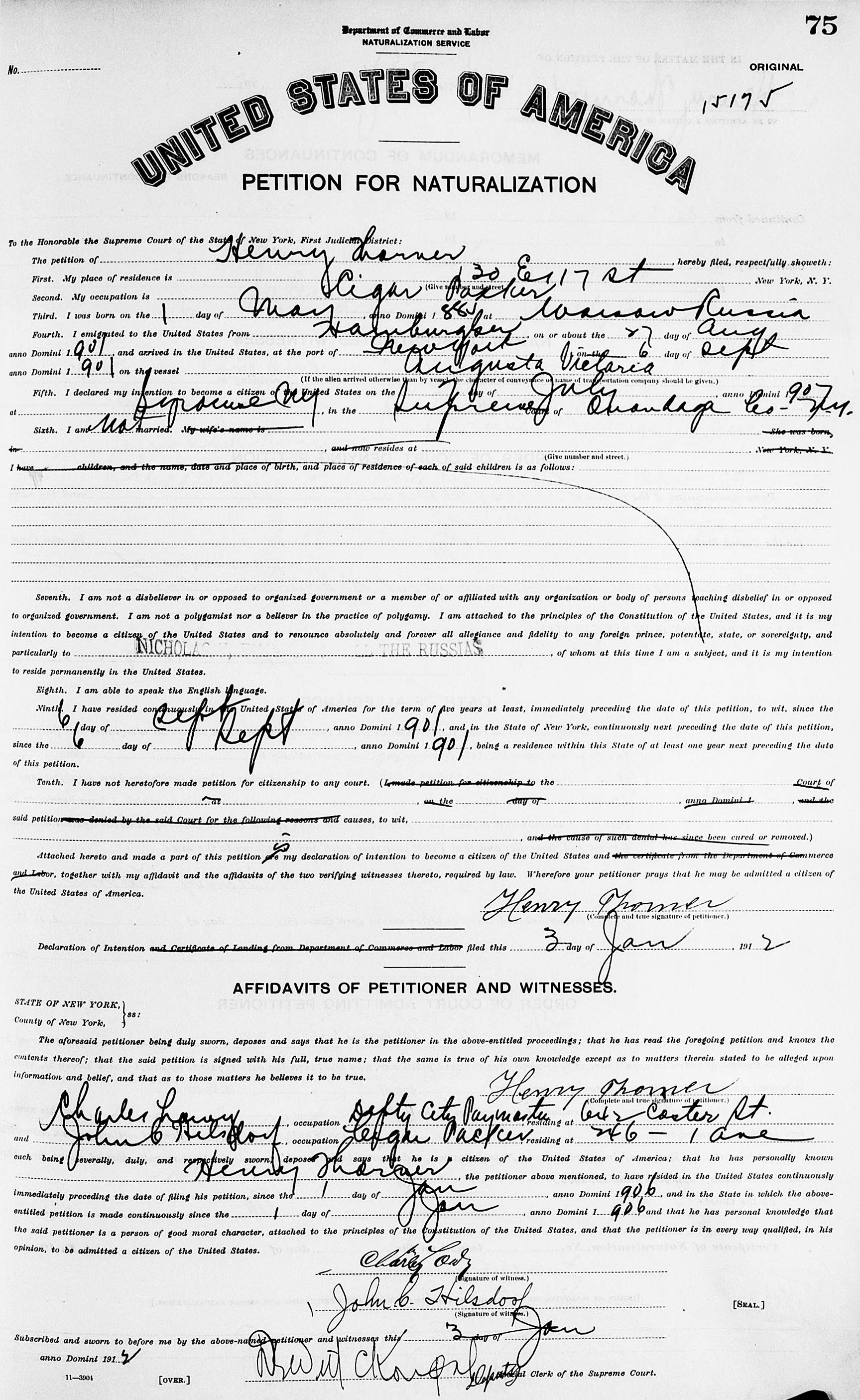 January 3, 1912: Petition of Henry Thorner, Cigar Packer
born May 1, 1885 in Warsaw; arr. Augusta Victoria 9/6/1901


February 20, 1914: Manhattan, NY: Marriage License Henry Thorner and Rosa Stuhler
I haven't been able to find the license itself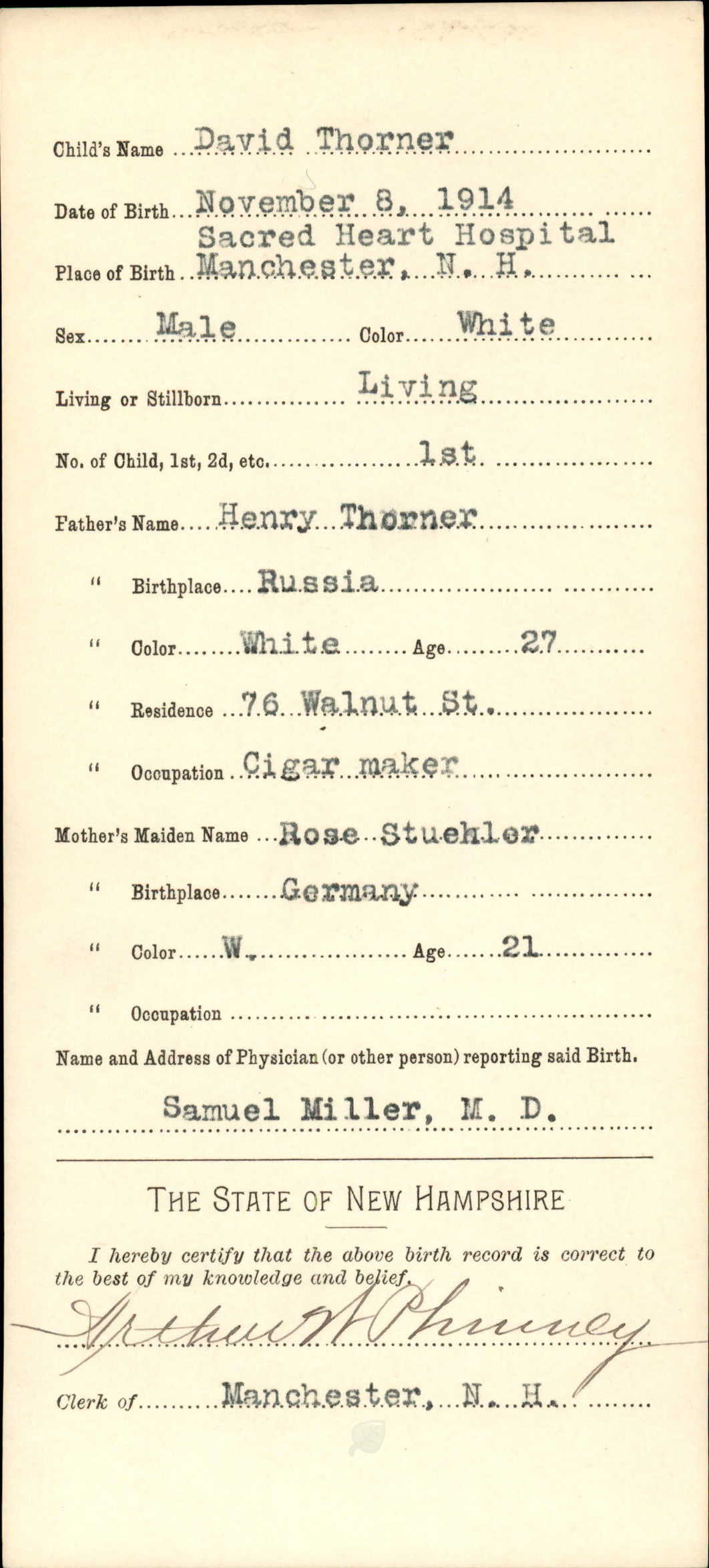 November 8, 1914: Manchester, NH: David Thorner born to Henry Thorner and Rose Stuehler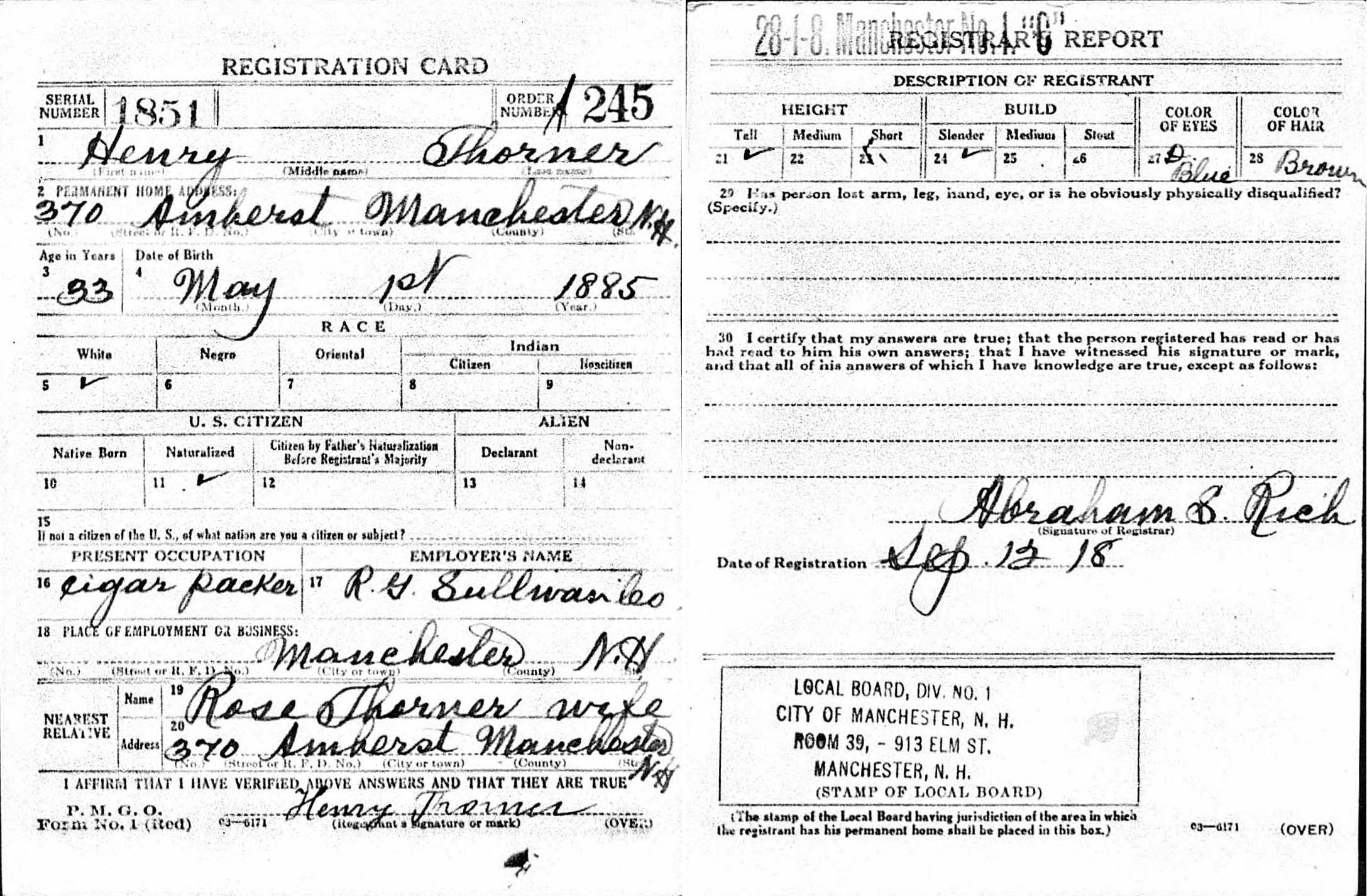 September 12, 1918: Manchester, NH: Henry Thorner: WWI Draft Card
He had blue eyes!

August 11, 1919: Manchester, NH: Birth female Thorner, later named Miriam

January 17, 1920: Manchester, NH: Census
Henry Thorner 34, Rose Thorner 31, David Thorner 5, Miriam Thorner 0 [5/12]


November 19, 1926: Departure Frieda Stühler, Hamburg to New York, Residence: Unterwertha; Destination: Manchester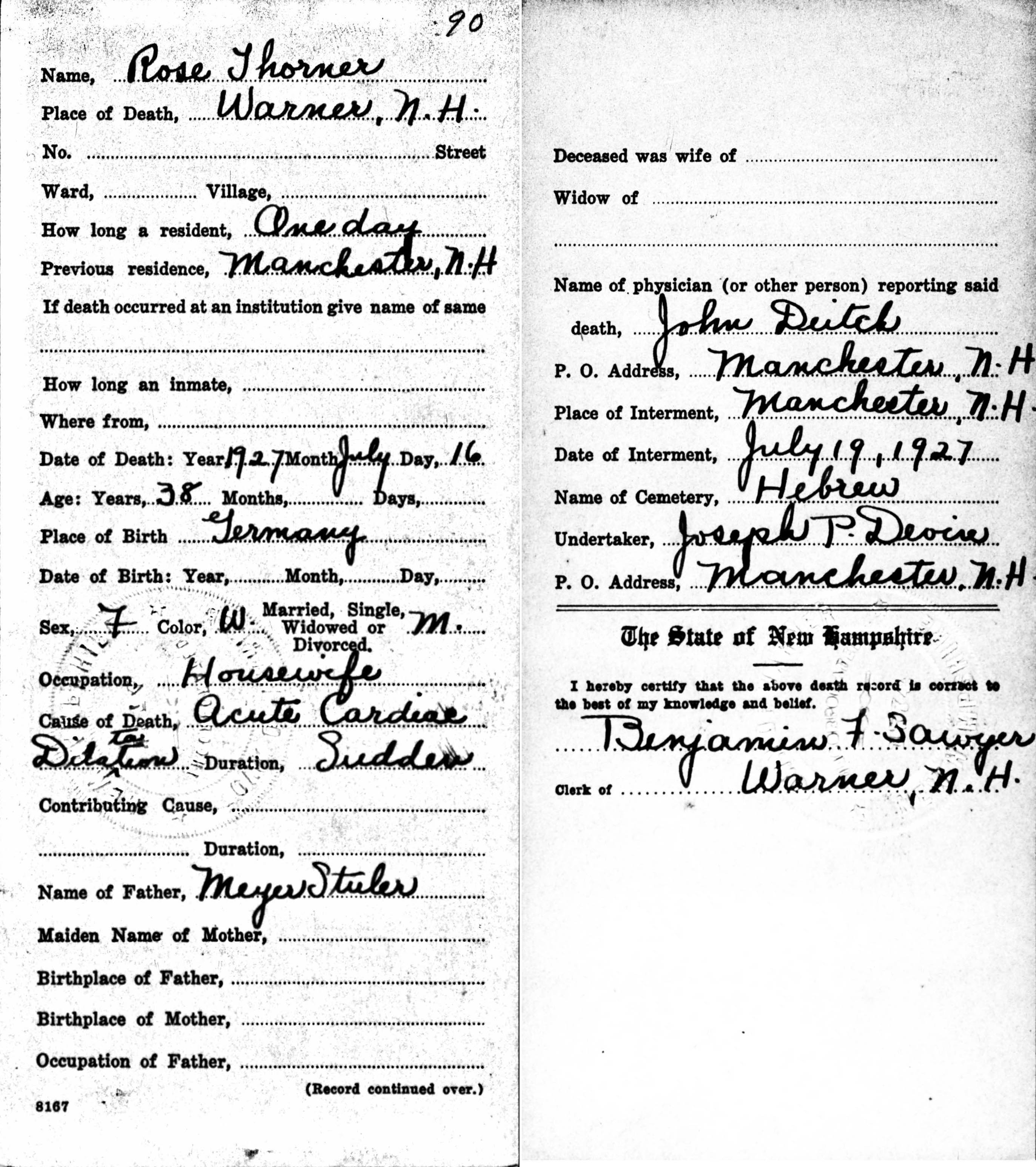 July 16, 1927: Warner, NH: Death Rose Thorner

March 31, 1929: Manchester, NH: Marriage Henry Thorner and Frieda Stuhler


April 14, 1930: US Census: 78 Walnut Street, Manchester, NH
Henry Thorner, 43; Freda Thorner, 37; David Thorner, 15; Miriam Thorner, 11


April 8, 1940: 238 Pearl Street, Manchester, NH: Census
Henry Thorner, 53; Freda Thorner, 47; Mirian Thorner, 20; mother-in-law Helen Stuchler, 79


April 7, 1950: Census: Manchester NH: Henry Thorner and Frieda Thorner

December 15, 1965: Death of Henry Thorner in Hillsborough, NH

Family is welcome and, indeed, urged, to copy documents to their personal collections.