UK and Ireland, Outward Passenger Lists, 1890-1960
July 7, 1906 Liverpool to Hull England on SS Campania
Chaim Zibulski: Birth Date: abt 1871; Mendel Zibulski: Birth Date: abt 1890


New York Passenger Arrival Lists (Ellis Island), 1892-1924
July 14,1906: Liverpool to Ellis Island on SS Campania
Chaim Cebulsky:   Married,  Nationality: Russia, Hebrew   Birth Year:1871
Mendel Cebulsky: Single,  Nationality: Russia, Hebrew   Birth Year:1890
who is that cousin?


April 16, 1910: Census: Boarders Max Zebulsky and Jennie Wilson: 730 Second Street, Manhattan
this says that they both arrived 1906

June 9, 1910 State of New York Certificate and Record of Marriage Certificate No: 12658
Max Zebulsky, 1567 Lexington Ave., Age: 23  [; c 1887] Birthplace: Russia Occupation: engraverFather: Chaim Zebulsky; Mother: Aide Leshensky
Jennie Wilson, 182 Second St. Age: 21 [c 1889], Birthplace: Russia; Father: Bernard Wilson; Mother: Fannie Kahan


June 1, 1915: NY State Census: East 109, #10, New York, NY
Max Sobel, Engraver, 26; Jenie Sobel, 25; Bernard Sobel, 4; Jenie Barsky, 22 [c1893] (per Ricky, possibly Max's sister).
There is also a 1930 marriage record of a Miriam Sobel, age 23 [c1907], daughter of Hyman Sobel and Edith Lishensky, marrying a Boris Barsky.

June 5, 1917: l WWI Draft Registration: Max Sobel, Engraver, 591 Tinton Ave, Bronx, NY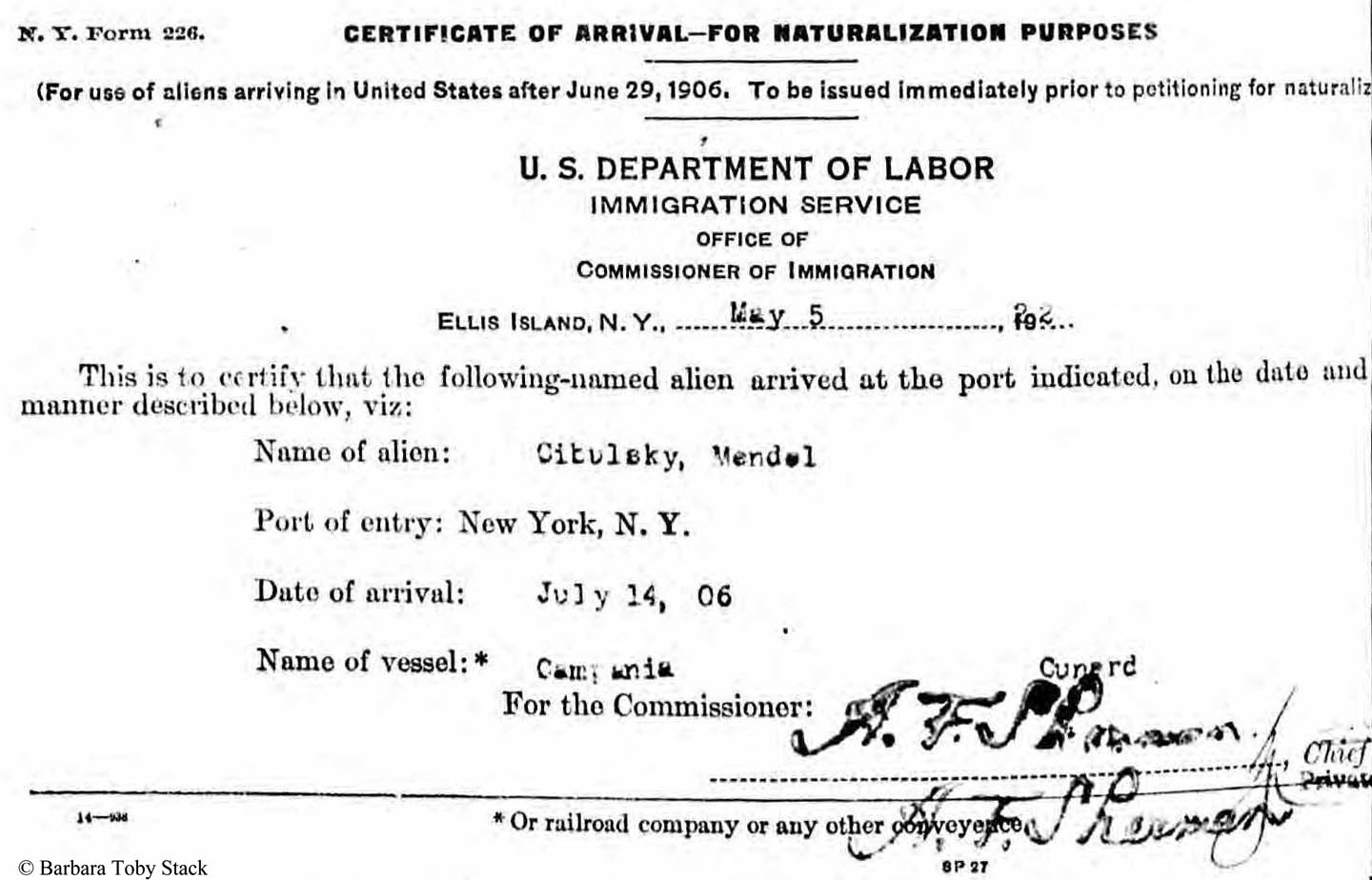 May 5, 1922: Max Sobel AKA Mendel Cibulsky Certificate of Arrival

May 19, 1922: Petition for Naturalization: Max Sobel, Engraver, 2022 West 22nd Street, Brooklyn, NY


April 3, 1930: US Census: 3316 Mermaid Ave, Coney Island, Brooklyn
Max Sobel, 39; Jennie Sobel, 36; Bernard Sobel, 19; Lillian Sobel, 15; Isadore Sobel, 13; Soloman Sobel, 10; Hubert Sobel, 3; Fanny Wilson (Jennie's mother), 52;


April 6, 1940: US Census: 138 West 32nd Street, NY, NY
Max Sobel, 48; Jeana Sobel, 46; Sal Sobel, 19; Herbert Sobel, 13; Fannie Wilson, 62;

1942 Draft Card Max Sobel 3260 Coney Island Ave., Brooklyn

January 6, 1946: New York Times (excerpt)

November 24, 1953: Max Sobel, Mendel son of Chiam, Beth Israel Cemetery, Woodbridge, NJ

November 25, 1953: The Courier-News: Max Sobel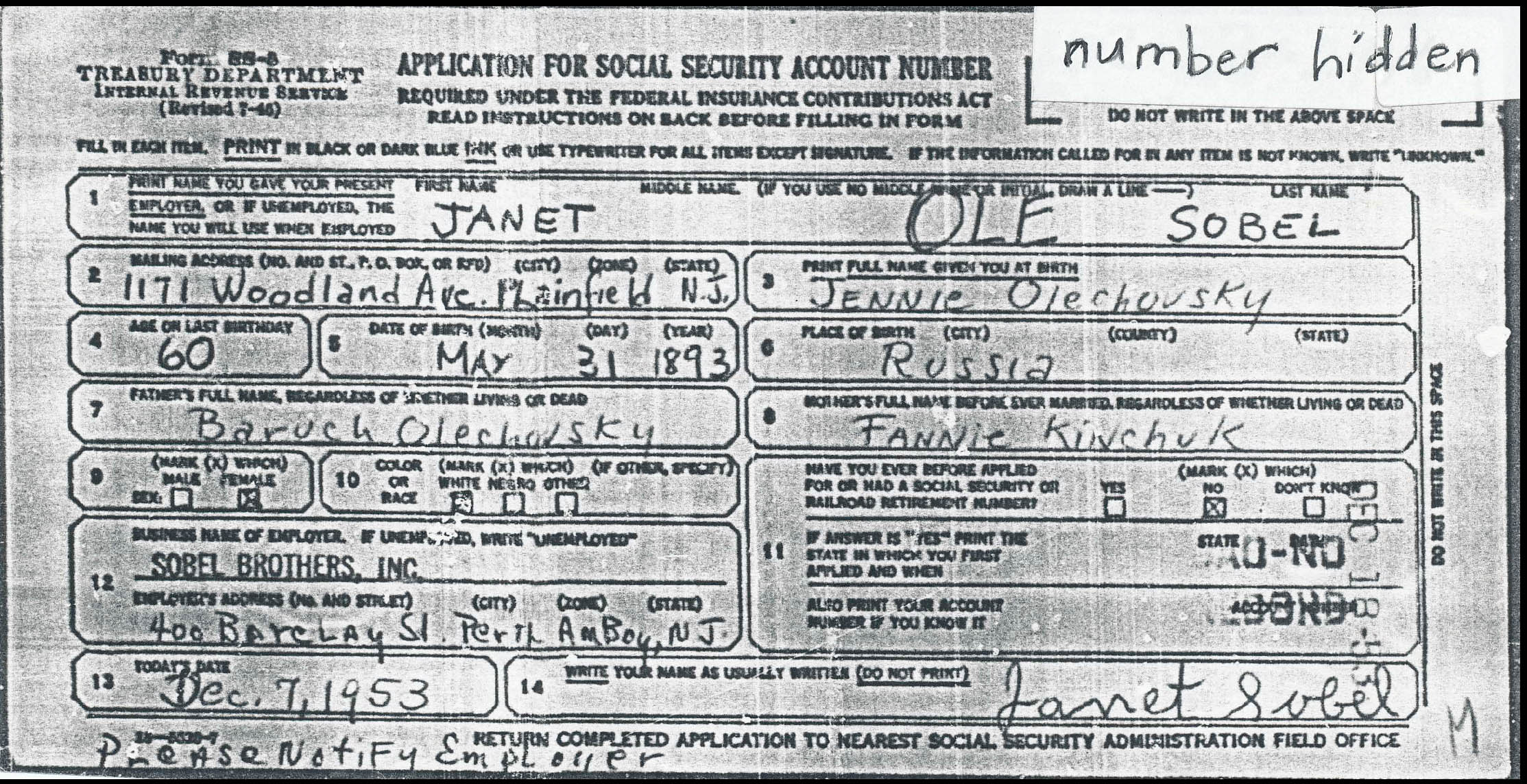 December 7, 1953: Social Security Application (fragment) which appears in Will the Real Janet Sobel Please Stand Up? by Libby Seaberg, 2009.
Lists parents as Baruch Olechovsky and Fannie Kinchuk.
used without permission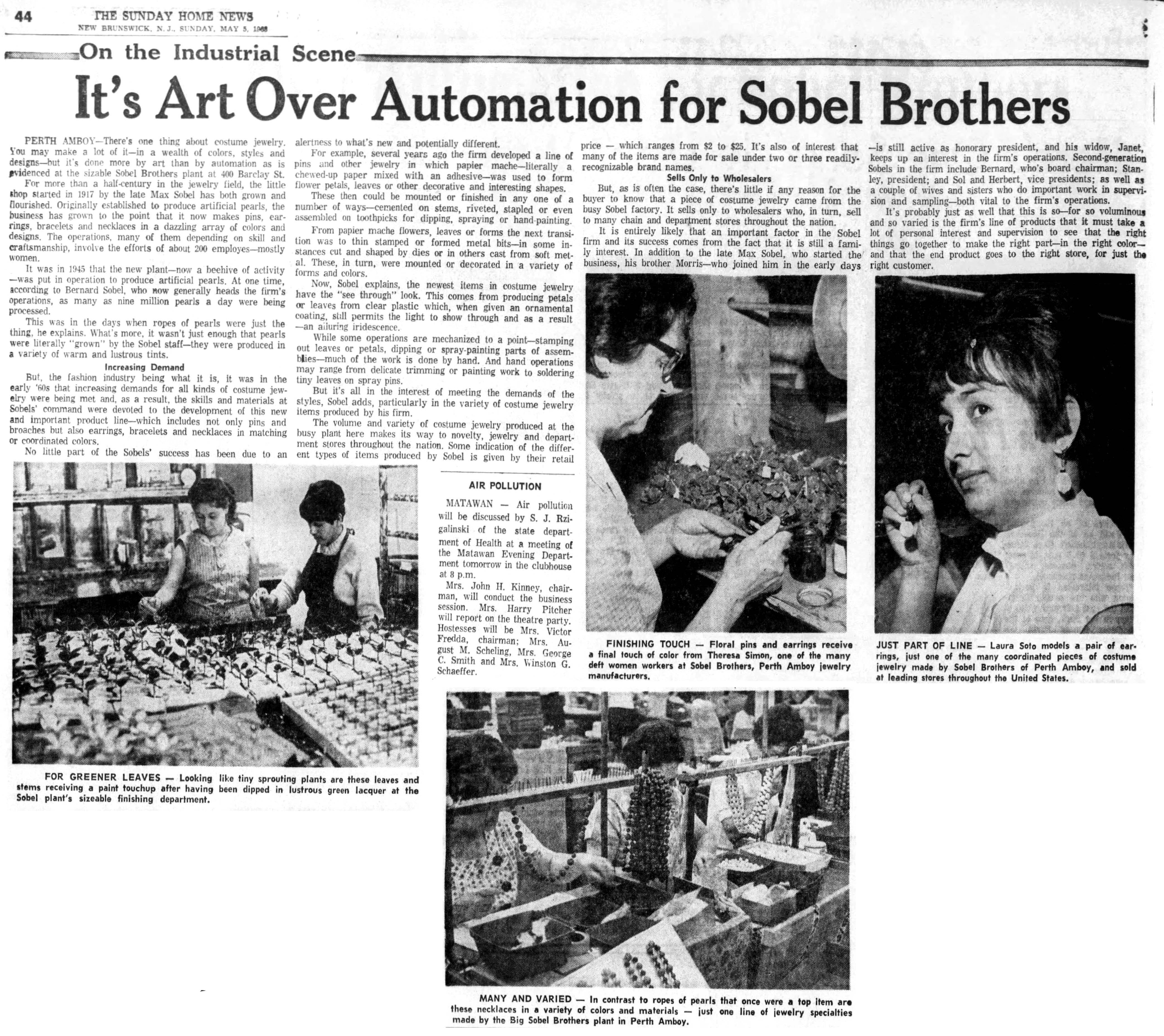 May 2, 1968: The Central New Jersey Home News: Sobel Brothers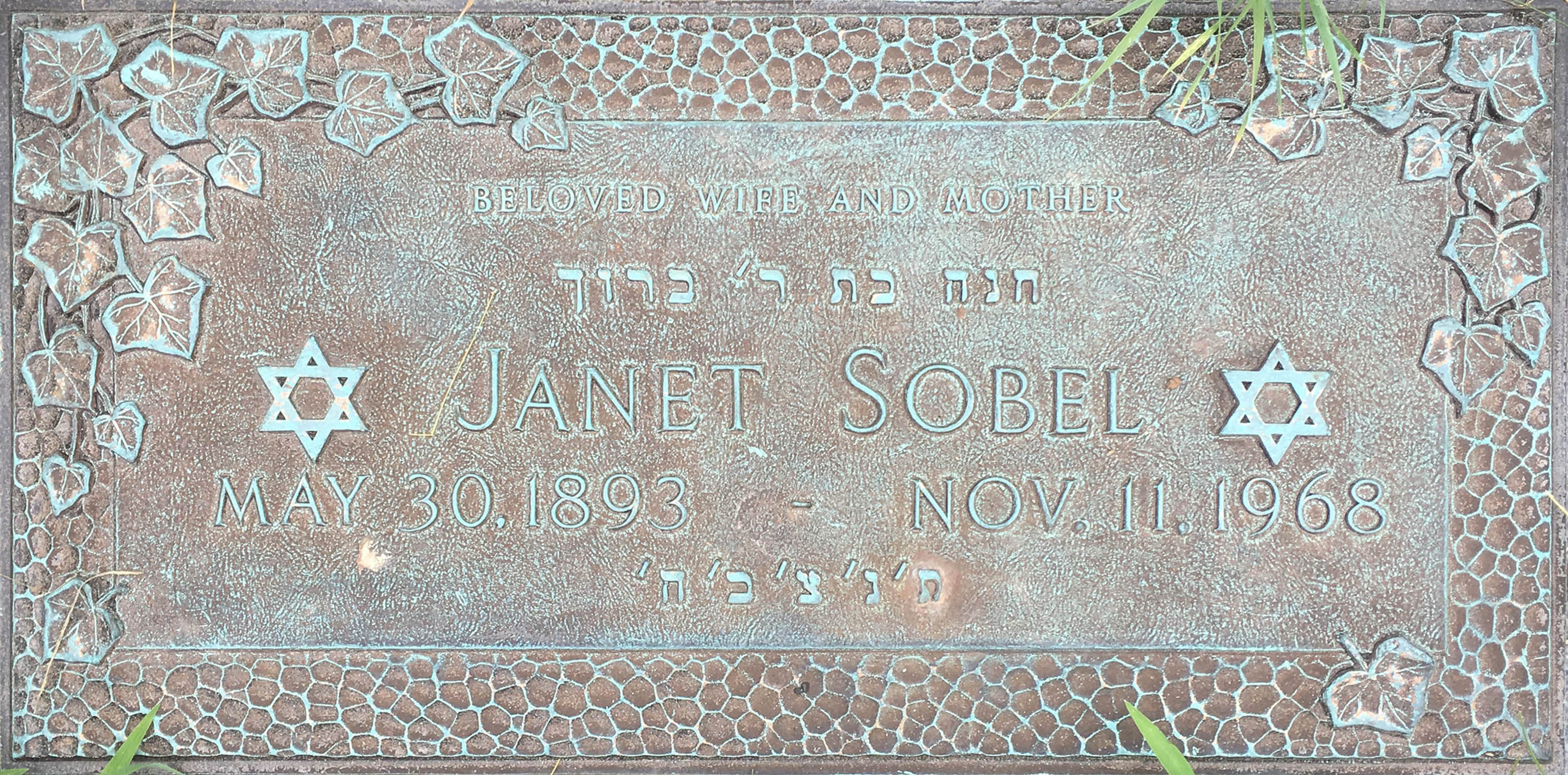 November 11, 1968, Janet Sobel, Chana daughter of Baruch, Beth Israel Cemetery, Woodbridge, NJ


November 12, 1968