The Names and Ages of Etta Lapides Robinson
The Robinson family name was Yecht and city of origin was Lokachi for David and for his children, Kovel, now in Ukraine
Kovel Memorial Book ● KehilaLinks
Yecht/Echt Bare Bones Tree printable
Yecht/Echt Bare Bones Tree printable-3 page version
see Overview page for jpg version

Descendants of Isaac Yecht Robinson Family Tree
updated 11/16/2010
Ben Robinson's Story by David Robinson
based on interviews in Ogunquit Maine, 1967 or 1968
My mother was a very extraordinary woman. She had a tremendous respect for my father because he was a very learned man. My mother was able to read Hebrew and she prayed every day and she was more tolerant than my father was. My father was a strict individual. He didn't like the family leaving the fold, as it were, and we all left the fold from time to time.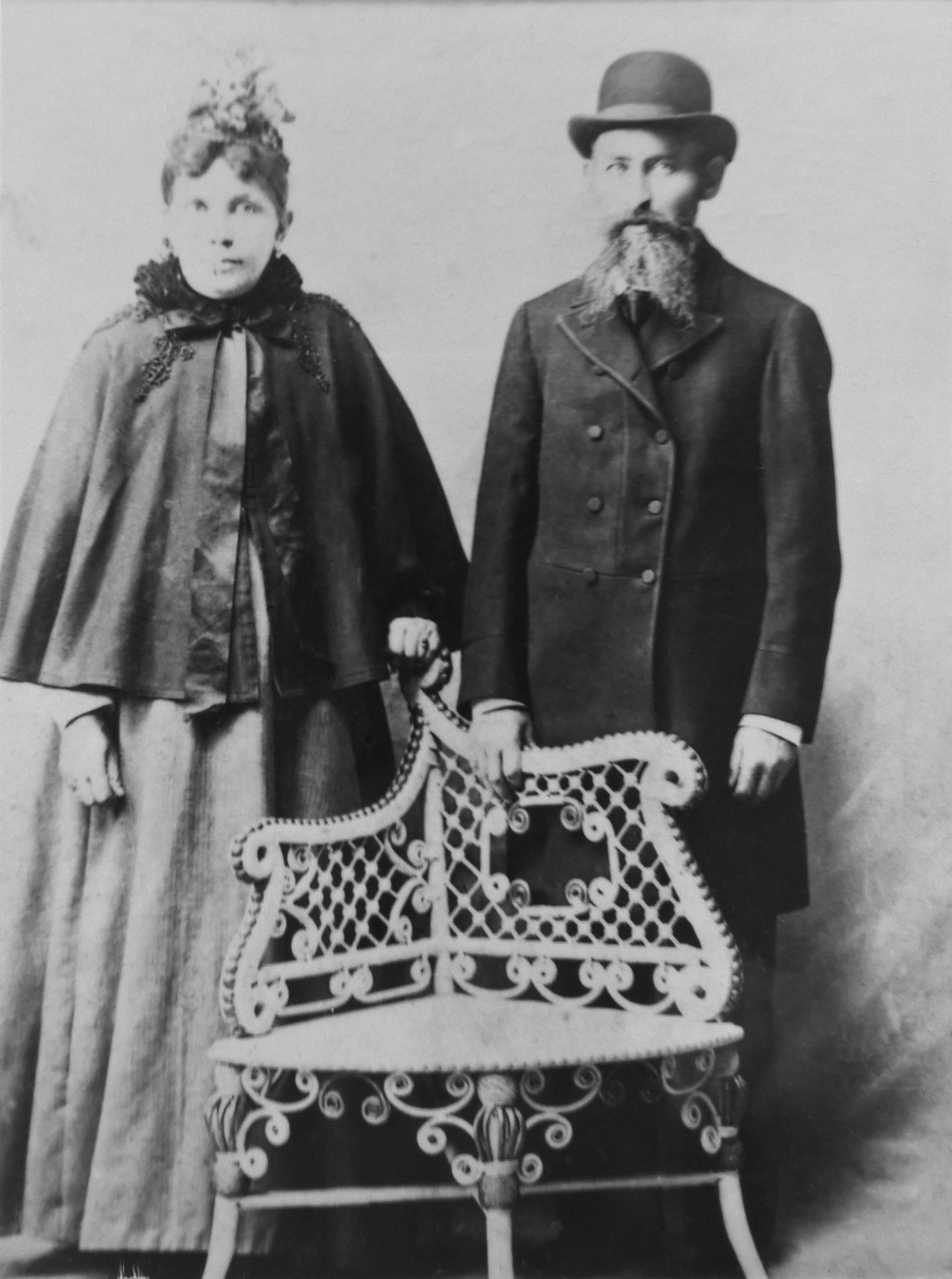 1895 circa, Eta and David Robinson from collection of Dan Loeb, Berkeley, CA.
Ita arrived in US 8/7/1895. She was born about 1855, so is estimated at 40 years old here.
Alternatively, it would have been taken in Europe before David's departure in 1892.
Note on her date of birth, which varies from document to document.
I ave a birth date for her father, Chiam Eliezer Lapides, as c1848. [source?]
If Eta were born c1855, he would have been too young. She may have been younger than thought.

August 7, 1895 arr NYC from Bremen: SS Dresden: Itte Robinsohn, 38 [1857], Chaje (Ida), 10, Chaim (Hyman) 8, Shmuel (Samuel), 6, and Itzig (Benjamin?), 4.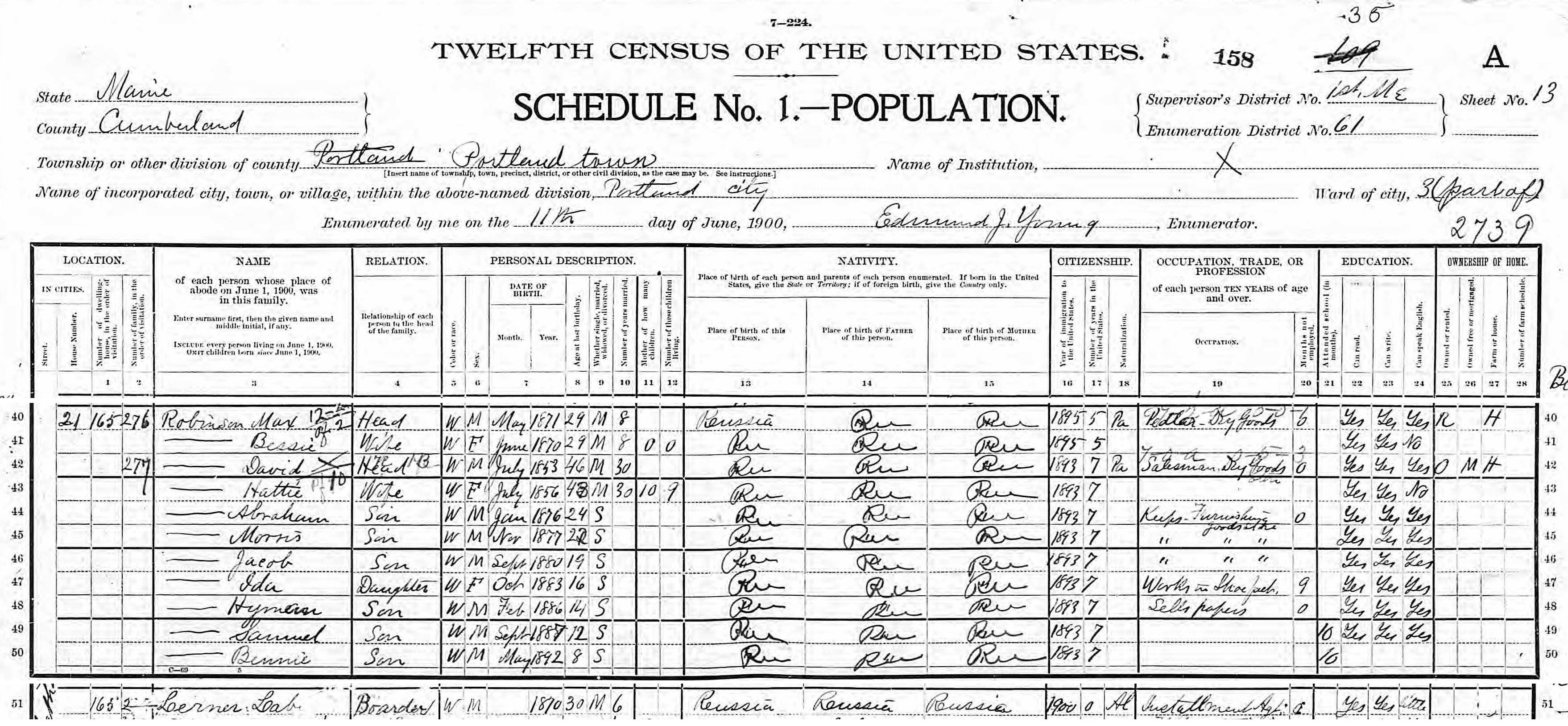 June 11, 1900
US Census: 21 Chatham Street, Portland, ME; David Robinson 46 and
Hattie Robinson
48 [1852], & family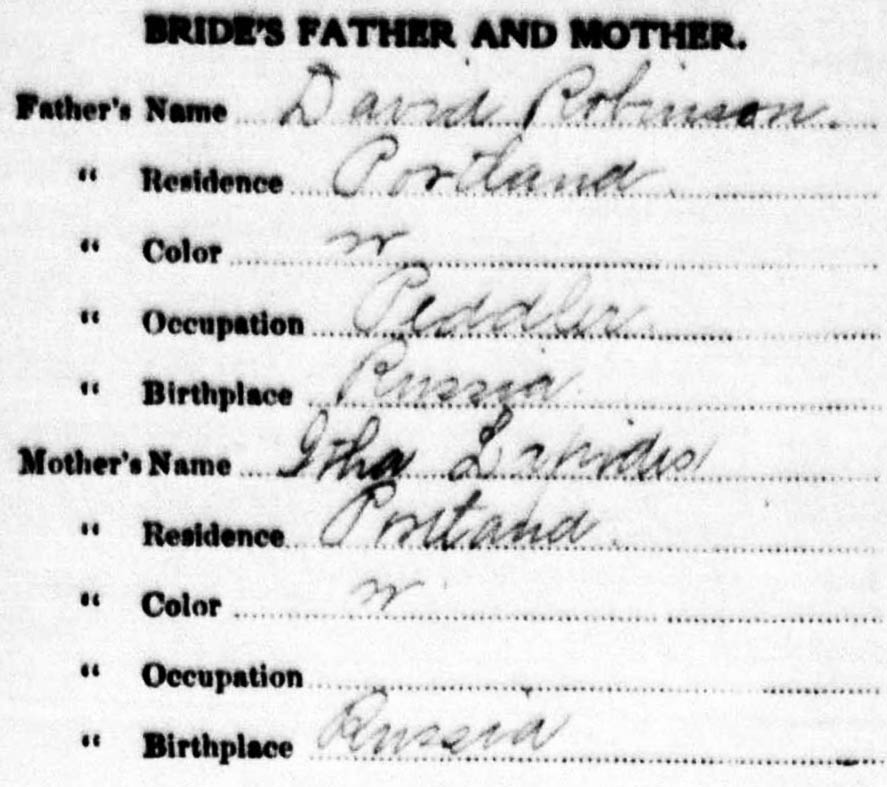 February 25, 1902
: Portland, ME: Marriage Ida Robinson & Frank Kumin Bride's parents: David Robinson and
Itha Lapides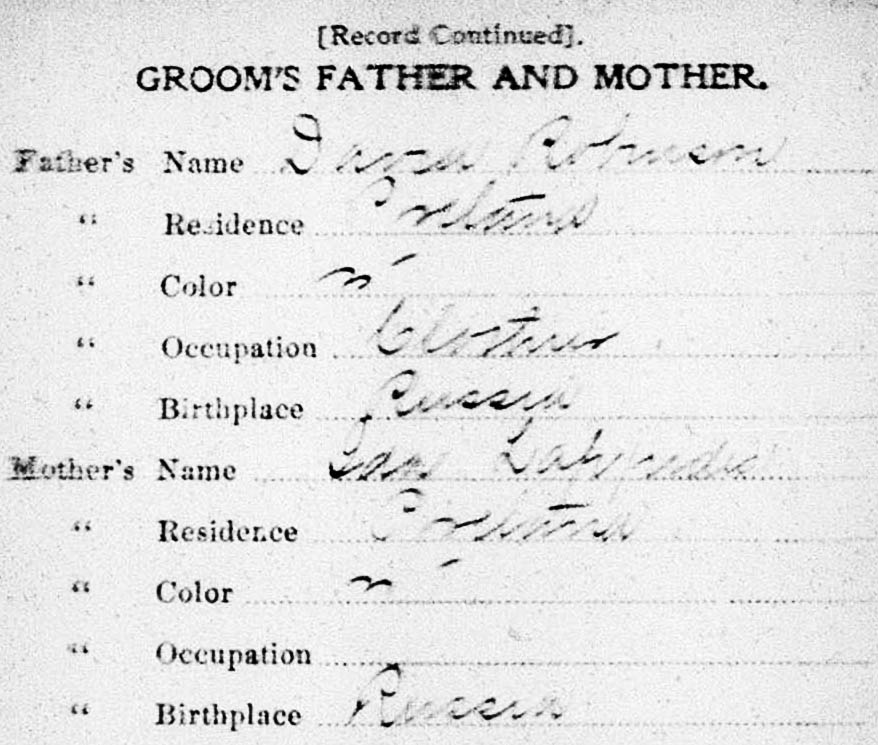 November 7, 1905
: Portland, ME Marriage Jacob Robinson & Rose Nelson: Groom's Parents: David Robinson and
Ida Lappides

April 25, 1910
US Census: Newbury Street, Portland, ME: David Robinson, 55,
Etta Robinson
, 53 [1857], Benjamin Robinson
|
January 8 & 9, 1920
US Census: 78 Dyer Street, Portland, Maine:
Edith Robinson
, 70 [1850], Cook boys, etc.
Feb 26, 2019
: via email: Judith Cook (Tucker):
"My father told us that he lived in Portland for the year after his mother died because his father could not leave the family
and Portland was where there was a synagogue with a minyan, so he was sent, at the age of 13, to the aunt to say Kadish every day for a year, on his way to school."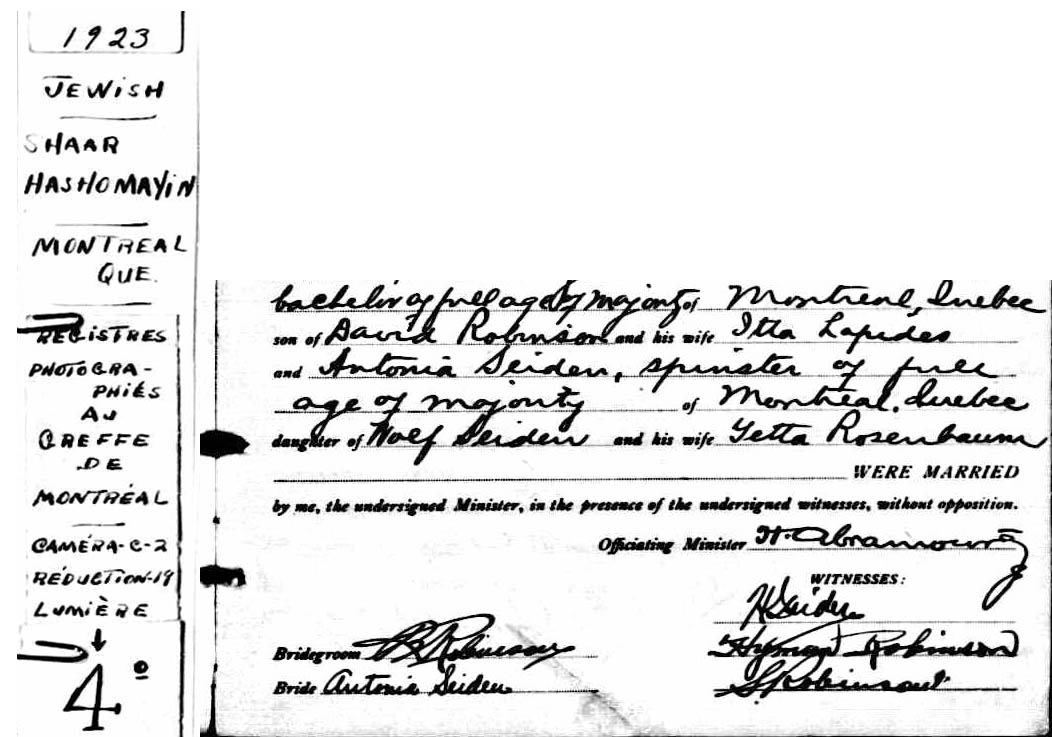 June 24, 1923
: Montreal: Marriage Ben Robinson & Antonia Seiden: Groom's Parents: David Robinson and
Itta Lapides

April 5, 1930
US Census: 49 Beckett Street, Portland, ME: Max Robinson and
Yetta Robinson
, 75 [1855]

April 8, 1940
US Census: 48 Beckett Street, Portland, ME:
Ette Robinson
, 90 [1850] and Bessie Margonstein
undated photo, probably taken in Portland, Maine, from Joseph Chandler collection
If we could ID the girl, we could date the photo.
Irving Robinson wrote Joe Chandler, quoted in
Dearest Rachel
: "I remember Bubbie Eta being a great romantic as I heard that she read romantic stories when she was in her 90's.
I remember her being a very independent person who refused to move into the Portland Old People's Home because she said that the people there were too old for her.
She was a very a generous person and I once heard her say that the only legacy she was leaving her children was a trunk full of receipts from the various organizations she supported.
The Lubovitch rebbe in Montreal told me that she phoned him when she wanted a halachic question answered."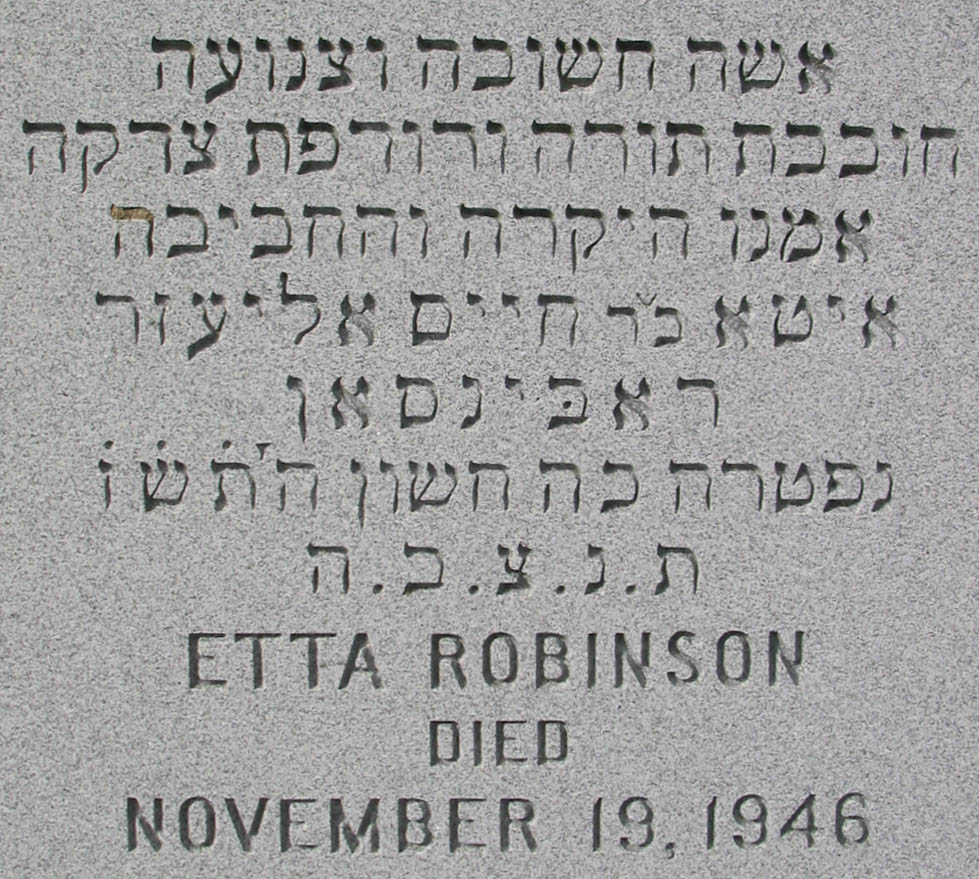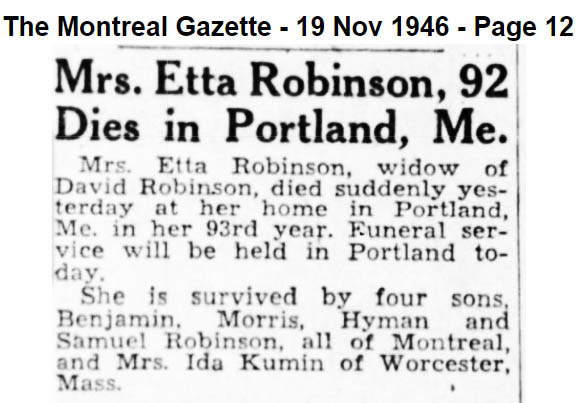 November 19, 1946
: Death of
Etta Robinson, 92 [1854]
promptly reported by Montreal Gazette
image thanks to Filler Cousin Issie Perel

Check out Documenting Maine Jewry
Donate!