Canada Broom Supply Co. (Montreal, Quebec)
The Robinson Wood Turning Company (Burlington, Vermont)


1951
TRANSCRIPT OF INTERVIEW WITH BESSIE BONDY
QUESTIONS: Carl Loeb, oldest grandchild
ANSWERS: Bessie Robinson Loeb Bondy
NOV 30, 1996 Portland, OR
BESSIE:
The Robinson Wood Turning Company was started by my Uncle Morris.
CARL:
Where was it?
BESSIE:
My Uncle..they started it in Montreal. They would…My Uncle Hymie joined the business. He was in Montreal. They had a clothing store, too. But he put up some money. My Uncle Morris found this place where they made brooms, and eventually my Uncle Hymie. So three of them found the Robinson Wood Turning Company. My Uncle Hymie would go to Europe and buy broom corn, and they would bring it in and sell a lot of it locally. They made brooms there. Then in Burlington, Vermont, they opened a wood turning place, where they made dowels and wood turnings. And your…go back to Clarence.
43:05
Clarence studied to be a dentist. And he originally wanted to be a doctor. But he couldn't get into a medical school, so he got into Columbia dental school. He was good in the book part, but when it came to the fillings or the making of teeth, he was so fussy. It took him forever to finish something and then he wasn't happy. So when he graduated, he found out he couldn't graduate with the rest of the class because he had to make up some work. So he quit. And had to look for a job. It was 1932, 1931, there was the Depression. He sold Fuller brushes, and then my uncles were looking for salesmen. Their business was expanding. So Clarence became a salesman for the Robinson Wood Turning Company.
Antique Phonograph News, Winter, 2016
The Crate or How I Learned to Stop Worrying and Love Antique Phonograph Restoration
by Adam Mock
While I was able to find a fair amount about the life of my great-great-uncle Ben, I was not as successful uncovering information about my great-grandfather Jacob. From a family blog, we know that Jacob and Ben Robinson had a store in Portland, Maine, called "Robinson Bros. Clothing". My grandfather recalled that "….in the window of the store was an old Edison phonograph and that Jake also ran a dance hall upstairs over the store". Around 1915, Jacob moved his family to Montreal and along with other family members established the Canada Broom Supply Company.
Joseph Chandler, Dearest Rachel
Jacob and two other brothers established the Canada Broom Supply Co. with world wide affiliations for raw material purchases; two other sons became attorneys, one becoming a member of the Supreme Judicial Court of Quebec, Canada. One day I shall tell you the love story \of the triangle between Grandpa Nathan, Grandma Rose, and one of the Robinson sons, Hyman, while Grandma Rose was making up her mind on whom to marry.
BROOM, BRUSH & MOP Centennial Yearbook: 1912-2012, PAGE 68
For example, the Jan. 29, 1935 issue contained an article titled, "Tells Of Trip To Hungary Buying Broom Corn." The article stated: "H. Robinson, of the Canada Broom Company, Montreal, Quebec, spent three months in the broom corn growing districts of Hungary and supervised the sorting and baling of Hungarian corn purchased by that concern. He states that he secured good quality corn. Concerning his trip there his firm writes: 'We have carried out a number of experiments in dyeing the Hungarian broom corn, so that it will closely resemble good average color of American broom corn, and are satisfied that we have the correct formula to supply our customers.'"
The article went on to state that Robinson found living conditions in Hungary very economical and that the Hungarian government established a minimum selling price on broom corn.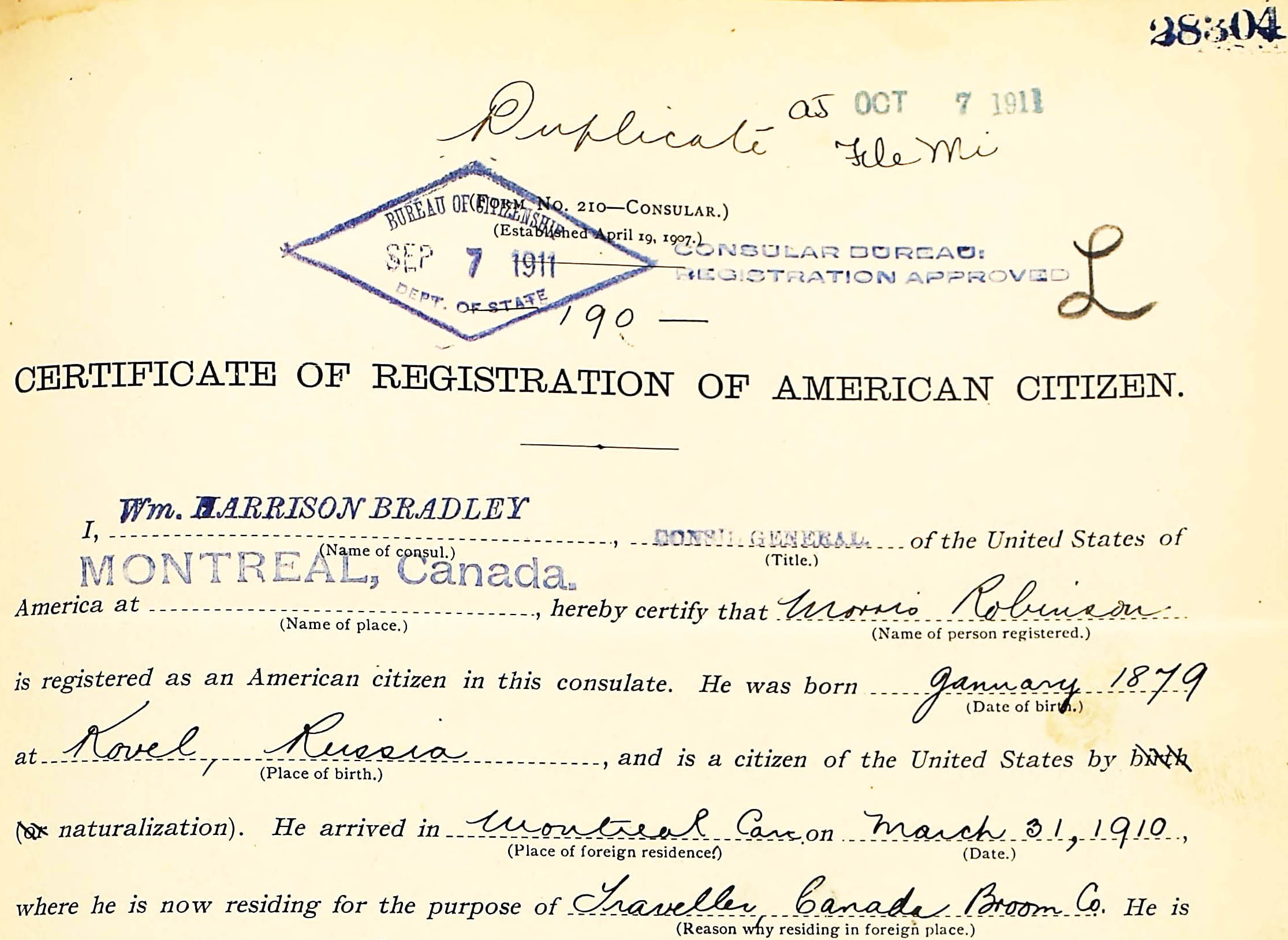 October 7, 1911 US Consular Registration Certificate Morris Robinson